Friends ask, "Are you really going to ski this season?" and "Is skiing safe with Covid?" I can think of no better activity for your health and well-being than skiing.

"Stay at home," "quarantine," "social distance" are all expressions that make me sad. Being outdoors, skiing, breathing fresh air – all things that make me glad. Here are reasons you should go skiing…

Skiing is an inherently outdoor sport. Don't we all need some nature to nurture our souls right now? Wear your mask, no big hardship – in fact it's a pretty typical essential in any skier's gear bag. Enjoy the fresh air, the spectacular mountain scenery, and the much-needed exercise of carving turns on snow.
It's safe…Ski resorts have adopted stringent new policies to keep you, and their crew, safe. "Mask up", and "arrive with your party, ride with your party", these are clever new colloquialisms ski areas have introduced for everyone's safety. You can share a chair with your family/friends, or if it's a quad or six-pack, you can achieve safe distance by seating on opposite ends of the lift. Ski resorts have in place good spacing parameters. Hats off, masks up to Vail Resorts, and their Epic Pass reservation system. Sure you'll likely encounter longer lift lines, when chairs and gondis aren't filled to capacity, but it does not translate to more or less people on the hill or the trails. Side note: Don't make the liftees have to remind you to cover your face, CYA – cover your own ___, they're lift attendants not Covid patrol.
Make your Resies…Yes, you can and often must reserve your ski days…(true, our elitist sport has become more so, for now). Read up online as to what your ski resort requires of you, reserving your season pass days and/or lift ticket in advance online. Sorry you can't just show on a snow day, or when you feel like it… but this is the way we have to play till we're all safe to roam about the world again. Some resorts are requiring parking reservations too, Bachelor, Snowbird, Copper, Killington to name a few. You may find restricted base lodge access, so know before you go. Vail Resorts has "idiot proof" signage (well, almost…) just go with the flow, single entry, single exit points to minimize contact. Pack a lunch in your pocket, or reserve a socially-distant table for dining indoor or out. Be sure your QR code app is up to date – that's the new touchless way to reserve, view the menu and order. Credit cards are the way to pay, not cash. Our visit to Breckenridge, Vail and Keystone, we were impressed to find big distances between tables, strict signage managing traffic in and out of the lines and lodges, and police-like protocols to keep everyone apart, very safe. It's still a privilege to ski. Also now to use a restroom – wait your turn (often outside), follow signage, wear your mask and wash your damned hands!
Support Your Resort. Remember how ski areas "shut down" mid-March 2020 with tons of snow, having to lay off staff and loose revenue. Well, they have adopted significant changes to re-open and provide a safe ski experience. Go support their efforts, follow their rules and regs, do your part to "SOS" = Save Our Season, Stop Our Spread. If you don't go, if you skip a season, your favorite ski area might not be there for you in 2022! Many tourism based businesses have been crippled, even permanently closed, by Covid's economic impact. Maine alone has 29,000 unemployed hospitality workers. Meanwhile Saddleback in Maine has re-opened for skiing after 5 years of being shuttered, let's make sure this classic ski area remains vibrant and funded. The majority of ski areas are open, with reasonable safety protocols and plans, let's help keep it that way.
Boot Up at your Car or Condo… I grew up booting-up in my ski boots in the parking lot so its no big deal to me, in fact its super convenient, just don't dip you sock in the cold snow (balance). Carrying your bags in to the lodge is a luxury not afforded this season, in fact lodge access is very limited so no more lunch table squatters (silver lining?). Streamline your process and pack accordingly.
Book slopeside lodging – for your own refuge, restroom and dining, just off the slopes, perfect for warm ups, a hot cocoa (for under $3!!), lunch break, and après ski with your posse… you kinda need to BYOB: bring your own beer, breakfast, etc. Or ski locally, go bang out some heart-thumping runs at your nearby hill for a few hours, then go home for lunch, no lodge stop or indoor resort time required. Be resourceful, but don't be sidelined this season.
Tailgate, party in the parking lot, with your party. This is a refreshing twist on a fun ritual that had been curbed and curtailed for years by ski resort security. Now you are encouraged to picnic and have aprés ski outside by your car. Think of the drink-tab savings! Just don't over-imbibe before you hit the road, and keep that distance from folks you don't know. Yes, we will all appreciate good ole fashioned aprés ski at a bar with a band when we resume that ski lifestyle, which may look different. Shot skis only for those who've had the shot?!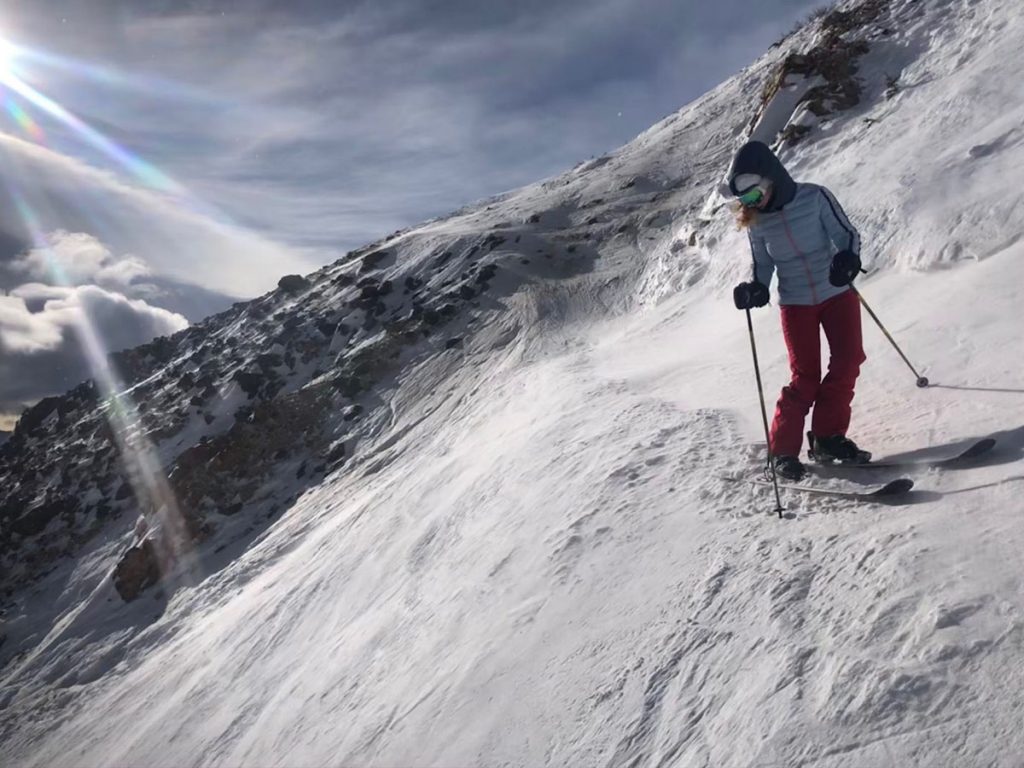 Skiing hasn't changed. Once you are gliding down a snowy trail, feeling the slippery snow beneath your boards, looking at the spectacular mountains, you will feel the joy of skiing. Nothing is quite like it, and you can do it safely, and I promise you it will refuel you after all these months of fear, and isolation, and frustration. Get out, get fresh, ski, support your favorite resort, you'll be glad you did… I see your smile under your ski mask 😉

Fact is we are way better off than skiing in Europe, where ski resorts across France, Spain, Switzerland and Austria are heavily restricted in their access, Italy is closed indefinitely. Canadian ski resorts are closed to foreigners as well.