1. The magic age for starting your child skiing or snowboarding isn't magic. It requires good judgment, versus overzealous ski parenting. Every kid is different; some 3-year olds are active, adventuresome and ready to get on snow before certain 4 or 6-years old. You know your child best, if they like to play in the snow, have balance and coordination, these are signs they are ready to ski, along with the obvious – potty trained.
2. Your child should be excited about skiing – eager to give it a try. Parents can spark interest with fun photos, ski videos and children's books on skiing, but don't push it until they show enthusiasm.
3. Start your child on skis inside on a carpeted area before you hit the slippery cold snowy slopes. An inside downhill dress rehearsal is ideal, having acquired skis and boots in advance at your local ski shop, ski swap or hand me downs. Let your little skier try out the gear in the comforts of home. As they clomp around in ski boots in a playroom or carpeted basement, even click into their skis and waddle around, they get the feel for the equipment. This is a great step to making the first day less intimidating.
4. If you're a DIY do-it-yourselfer, pick a nice sunny soft snow day to take your child for a few gentle runs on the baby slope. Use a harness, or snowplow next to them (use a ski pole – giving your child the handle end and hold it across both of you). Keep the experience happy, safe and positive. Take photos. As soon as the child's interest wanes, break for hot cocoa. One ski run is better than none.
5. Don't think that you're not a good parent for not teaching them yourself – the opposite can be true. Kids' ski lessons and camps provide a well-choreographed learning environment. Instructors are experienced using specially designed terrain, often with colorful cutouts and mascots, and your child is with other kids their age and ability as motivation.
6. Call the ski area in advance or go online to get the scoop on learn to ski and snowboard. Reserve space and confirm what's included (i.e.: lunch, equipment), what you need to pack, drop off and pick up times, and costs for hourly, half day and full day programs. Ask for forms in advance to expedite registration. See our Checklist of what to pack for ski camp.
7. Inquire about deals on ski resort lodging that may include free or discounted kids ski tickets and lessons. Avoid peak holidays and school vacations for the best prices, and fewer kids in camp. Also, think small, you don't need a big ski resort with huge vertical for your child's first foray into skiing. Save time and money by going local to start.
8. Prep your child in advance for their ski lesson with a description of their on snow day. Tell them Mom and Dad are going to bring them to camp, leaving them with an instructor and other kids who are also learning to ski for the first time. Tell them about snacks, lunch, and what time they will see you at the end of the lesson – no surprises. Pack their gear, label everything and include a favorite snack or toy.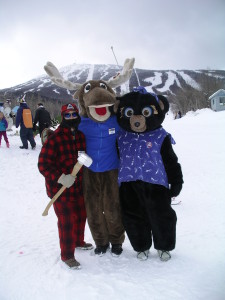 9. Take ski pictures of your child's first big day on the slopes. Ski pics are great later to amp up your new skier for their next ski adventure, and you are building their alpine archive in case they become famous free skiers. However, do NOT disrupt their lesson. Watch from away, unobserved. Parents can unwittingly upset the progress by popping up in their kid's ski lesson space.
10. Teach your kids the joy of après ski. That doesn't mean taking them to a loud bar with sticky beer on the floor and drunks dancing in ski boots. I am recommending cocoa, s'mores, a swim in a heated pool (or a bubble bath), followed by family ski stories by a fireplace as the perfect end to your child's ski day – and a good chance they will want to repeat.
For more Tips on Family Skiing, see our Family Ski Trips Guide to Skiing with your kids.
2018 Copyright & Photography property of Family Ski Trips