What's your Easter tradition? My daughter Aspen came home from college for Easter
weekend, not for a big family brunch or Sunday church – but to ski. Her roommates asked her, "What's your family's Easter tradition if you don't go to church?"
"We ski," my daughter replied. Since our kids were first learning to turn, we would take them to Sugarloaf or Sunday River for Easter weekend. We have skied in cold wintry blizzards and gorgeous sun with soft squishy snow. That's spring skiing in New England for you. There have been many Sunrise Services, where we woke before dawn and loaded a chairlift in the dark, to witness the sun rise over the mountains followed by the most glorious ski down the mountain before it opens. The kids have found Easter eggs and chocolate on the ski trails, they've even worn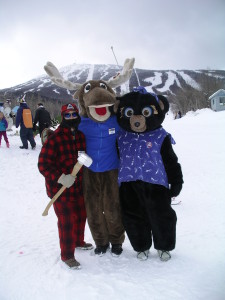 costumes and bunny rabbit ears, had their pictures taken with Amos the Moose and Blueberry the Bear over the years. If that's not a tradition, I don't know what is.
So when my daughter requested coming home for Easter weekend from college to ski, we were ecstatic. Skiing together as a family – first tracks on Sunday morning was priceless and precious at Sunday River.
She's a little grown up for egg hunts and mascot photos with Eddy and Betty the Yeti, preferring lunch at the Foggy Goggle with a more adult beverage, but the mountains of memories continue to be made. I hope your family enjoyed their Easter tradition as well.
The spring skiing in New England is the best right now… so get out and enjoy those high elevation ski resorts still 100% open.
Heather Burke, 2018 Copyright & Photography property of Family Ski Trips