Skiing is exciting – our favorite sport – but it can also be a overwhelming if you are new to the sport. Besides using the best gear and accessories, it's also a smart to leverage technology to on your ski trip.
Mobile apps are getting more popular in our daily lives as well as snow sports. There are lots of apps developed by skiers for skiers. With the help of these awesome ski apps, you can take your winter adventure to the next level.
Ski App reviews.
Trace Snow (Android/iOS, Free)
Trace Snow is a great app for both beginner and advanced skiers to keep track of different kinds of terrain. Specifically, this app can record airtime, speed, distance travel, and jumps. If you are a fitness geek, you'll love the calories data. Trace Snow provides how many calories you have burned! You can easily access your stats on the slope and see your progress during the season, and best of all, share your awesome stats on social media like Facebook.
Waze (Android/iOS, Free)
While Waze is not a dedicated skiing app, you'll love it as a skier. Ski mountains aren't the most accessible locations, thus you can't always get real-time data from Google Maps or Apple Maps. That's what makes Wave so great – you can receive updates about the best routes to drive and road conditions,  to your desired location safely, thanks to Wave's users who also share police traps, road accidents, etc.
OpenSnow (Android/iOS, Freemium)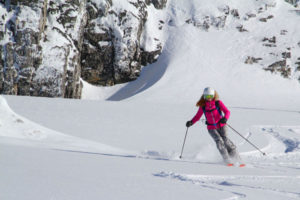 As its name indicates, OpenSnow is an app for snow forecasts and weather . It's created by a group of weather forecasters who are obsessed by powder. Snow forecasts allow skiers to seek the best conditions. OpenSnow is a "freemium" app available on both the iOS Store and Android Play Store, meaning its free, though the premium version cost $19 per year for ad-free and longer-range forecasts and alerts.
Ski Tracks (Android/iOS, $0.99)
If you are a skier who is not so techy and prefer apps with less complicated features, Ski Tracks is a great option. The app does what it says, tracks your skiing runs by using your phone's sensors. Another highlight about Ski Tracks app is that it synchs to your Apple Watch, Echo Fit, etc, so you don't need your phone. Given all the useful features and
ease of use, one dollar is well worth it.
SkiLynx (Android/iOS, $2.99)
If you are a social person who likes to ski with other skiers, SkiLynx is one of the best apps. It allows you to easily keep in touch with your group friends on the mountain. You can quickly create a group in the app with one click, then invite friends and  to chat with them throughout the day, see exactly what run or lift each group member is riding, all in real-time.
Epic Mix (Android/iOS, Free)
From the Vail folks who brought you the game-changing Epic Pass – a super savings season pass good at all Vail's 37+ ski resorts, here is an Epic ski app that tracks your vertical skiing, gives you real time intel on ski conditions, lift line times throughout each resort, shows how your kids are progressing in ski school, and how your race time is versus Lindsey Vonn or Mikaela Shiffrin. Epic Mix even offers up photos of you and your posse captured around the mountain, thanks to RFID tech on your Epic Pass. We love the lifetime vertical accumulation! 1 million vert a season anyone?
Contributor Christine, the founder of TheSkiGirl.com, a blog where she and her team share their passion with other skiers. You can find the latest ski gear reviews and in-depth knowledge of a  variety of snowsports topics .
See more at  Family Ski Trips.com and our sister site The Luxury Vacation Guide

  Follow @FamilySkitrips