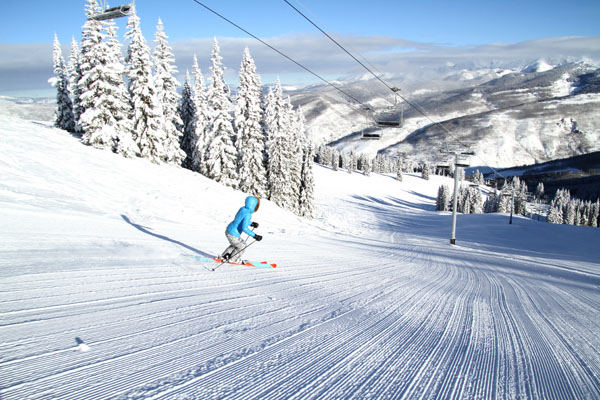 Skiing Colorado
We don't recommend you try this. Our mission was to ski the best of the Colorado Rockies in one week. 126 ski runs for 235,030 total vertical feet of skiing with 24 pillows (4 heads x 6 resorts), we were supremely rewarded (and exhausted) from an Epic Colorado family ski week.
Each of the Colorado ski resorts we skied would keep you amused for a week. Here are our Favorite Colorado Family Ski Resorts.
Our first stop was Copper. This 2,450-acre ski resort is a convenient 1 ½ hours from Denver. The U.S Forest Service deemed Copper, "the most naturally perfect ski mountain in the country."
Reason being, Copper's terrain is naturally divided among four mountains with gentle beginner terrain to the west, blue intermediate trails in the middle and black diamond steeps to the east. This is one reason families love Copper. Another reason is the Intrawest-designed resort village that is growing at the base, complete with luxurious condos, a heated walkway plaza and underground parking.
We loved Copper's Super Bee six-passenger chair that whisks you up 2,300' of vertical in just over 8 minutes. If we skied this lift all day, we could acquire as much skiing as two Everest descents. But our duty included checking out some of the four back bowls and the pleasant cruisers on the mid mountain. Could have stayed longer…
Our next goal was to conquer Aspen Skiing Company's four ski areas. We started with the biggest, and what we later deemed the best of the four pack, Snowmass. The name alone implies the size, with 3,010 skiable acres, this beautiful resort is massive and boasts the most vertical in North America at 4,406'.
The most heavenly skiing we encountered was on Big Burn, named for the forest fire damage that cleared all but a sprinkling of towering pines on this perfectly pitched mountain top acreage. Not only is the skiing sweet, the views of the 14,156' Maroon Bells and Snowmass Mountain in the distance are fantastic.
Another winner at Snowmass is the kids' trail map. Snowmass is the family oriented area of Aspen's four, and our kids loved cruising the mountain's adventure zones, skiing through an Indian village, and even petting live reindeer on Rudolph's Run by following their own animated kid guide.
Snowmass has seven high-speed quads and tons of terrain for everyone. The Long Shot was our most unique run, a 10 minute climb (not for everyone) leads you to 3.7 mile adventure – that feels more out-a-bounds than in.
Aspen Mountain, the original ski mountain dating back to 1936 and referred to locally as Ajax, is serviced by the flagship lift, the Silver Queen gondola, that lifts skiers from the heart of the celebrated town to the summit. Despite Aspen's reputation of being a glitzy, catered-to town – the terrain is steep and shy on groomed ego runs. The gladed chutes at Ajax could keep you hop turning for a week. Snowboarders are now welcome, since Aspen lifted the board ban last April Fools' Day– but timid skiers still need not apply.
"First tracks" at Aspen is our best tip for you here. It's a free service with a lift ticket. You must sign up two days prior with their ski concierge (only 8 slots), then you can board the gondola at 8:00am, for fresh tracks with a guide an hour before the other paying customers. We really scored with seven inches of freshies on our first track morning. The early morning sun on the shimmering Aspen groves was worth getting up for, the effortless turns in the fresh powder was worth flying across the country for.
Another thing we like about Aspen was that you ski literally in to town. Descending Aspen's ski runs, which funnel to a narrow gully, you look down on the quaint Victorian town. Ski Ruthie's to the American Downhill course or shop Prada and the oodles of chi-chi designer shops – that was our conundrum – so we opted for both!
Aspen Highlands
was our third stop among Aspen's awesome foursome. Highlands has a similarly expert reputation to Aspen, this is where the local powder hounds ski and Aspen's wildest on mountain apres ski happens at Cloud 9. The skiing is wild too, the steep mountain has some of the best inbounds extreme skiing in North America. It's lift serviced backcountry style terrain, a sweet blend.
Highlands has a few groomed runs, to cater to the wallets investing in the rising base village anchored by a posh Aspen Highlands Ritz Carlton. Our thoughts here – Highlands is ideal for those who like it steep and radical. When you work up an appetite, head to the Willow Creek grill for lunch at the slopeside Ritz and you'll be reminded you're in Aspen.
Last of Aspen's mountains is Buttermilk, which was hosting the X-Games during our visit. This is the smallest and tamest, a great spot for beginners and kids. We skipped over Buttermilk because it was heavily populated with gen-Xers for the big event.
Ironically for the town of Aspen, the X-Games coincided with the annual Gay and Lesbian ski week (not our reason for booking), all on Martin Luther King Jr. weekend. I wonder if that's what the good Doctor had in mind in his dream?
The best oxymoron among Aspenites is that so few ski. Most people come to see and be seen. This makes for fantastic un-crowded skiing and admittedly great people watching with a parade of furs, celebs, and cowboy boots with spurs. Our First Tracks ski instructor eagerly volunteered that he lives next to the "Dons," Henley and Johnson. Name-dropping is all the rage in Aspen.
So here is my attempt. We had a drink with comedian Carrot top at the swank St. Regis Hotel Lobby Bar, and apparently just missed Melanie Griffith who frequents Cindy Crawford and Rande Gerber's trendy bar, Whiskey Rocks.
Our next vertical village was Beaver Creek. This resort could easily pass as Deer Valley's sister. Actually, Beaver Creek's roots are Vail, the nearby sibling resort who started this resort in 1980. The beautifully designed slopeside village and impressive hillside mansions, that appear to be never occupied, are a few clues that this is an upscale gathering ground.
The sculptures and escalators that line your walk from the underground parking to the high-speed lifts confirms that they do things to excess here, in a highly enjoyable way.
We fell for Beaver Creek, well not literally – actually we carved it up for a record day of 34,200' vertical. 
The Centennial lift gave us plenty of bang for our buck, launching from the base up 2,000' vertical in a quick eight minutes. From here we explored meticulously groomed steep pitches on the front face, and fantastic glade shots, with a quick pass through the fun kids' Zoom Room and Rowdy Ridge.
The Birds of Prey area has "chase your spit" steep runs including the heralded Golden Eagle Downhill course. Grouse Mountain offers up additional serious fall-line trails. The western reach of the expansive ski area makes for tamer territory, a fitting site for a brand new base village called Bachelor Gulch – the home to tremendous private residences and a Ritz Carlton.
We boarded all six high-speed quads for run after run on the 1,600 acres of terrain, to formulate our family conclusion that Beaver Creek has the most consistent fall line skiing. Also, it has one of the nicest mid-mountain lodges, Spruce Saddle, with panoramic views of the Rockies outside and a wildlife décor inside.
Last but not least we skied Vail the big daddy of Colorado and North America for that matter. With 5,289 acres and 33 lifts, Vail has the most terrain in the U.S. The Vail trail map requires three sides.
There's the Front Side, with tons of traditional trails served by quads galore and a classy 12-passenger gondola. Then there's the beloved Back Bowls, seven of them covering a six-mile expanse of wide-open, above tree line "ski anywhere you like" landscape. And there's Blue Sky Basin and Pete's Bowl, a third mountain face added in 2000 which is adventure skiing on uniquely groomed glade runs.
Vail gets several high marks –the most, best ski terrain, particularly for the Back Bowl experience. It is accessible to intermediate and above, all serviced by quads, and it is inevitably either in the sun or snowing.
The best mountain top lodge is the Two Elk. Jeers to the environmentalists who burned this magnificent lodge in 1998 as protest to Vail's expansion. Cheers to Vail Associates for rebuilding this monumental on-mountain centerpiece to its previous perfection in time for the following season.
Vail's lift system is incredible, as are the lift status signs at each peak indicating any lift lines so that you can avoid the crowds. Vail is busy, the words is out, but with all this terrain, you can find your own pocket – be it western Game Creek Bowl or eastern Fort Whippersnapper- a terrific model fort for the kids to explore on skis.
Vail's Tyrolean village is chock full of fine lodges, restaurants and bars – all prime real estate in this 1962 town started by Pete Seibert of the original 10th Mountain Division.
Vail may also be the best party town, though Aspen gives it a run. But we came to ski and we were highly successful, quite high literally too. Skiing at elevations over 10,000' was an adjustment us coming from sea level.
It is critical to stay hydrated to avoid altitude sickness. Our son experienced that woozy feeling on our first day. The ski patroller informed us that 40% of visitors experience symptoms, usually on day one due to dehydration, lack of sleep and overexertion. Our motto for the week – water, water, water – and it worked like a charm thanks to the gratis water dispenser at every ski resort.
One of our dilemmas of moving from one resort to the next was remembering our room numbers during our mega-resort mania combo plate. Having the corresponding trail map in your pocket was also a challenge. Fortunately all 4 of Aspen's ski areas are on one multi-fold map.
I recommend you settle in to one of these incredible Colorado ski resorts and stay a week. Pick the resort that suits your personality. Copper would be an ideal family ski vacation spot. Aspen's four mountains and fabulous ski town will amuse anyone for days, weeks, months. Vail alone takes a week to conquer and you have Beaver Creek, Breckenridge, Keystone and Arapahoe on the same Epic ticket.