St Moritz
St. Moritz is known for its celebrities as much as its skiing. Its a spectacularly scenic resort in the beautiful eastern Swiss Engadin Valley – bordering Italy. St Moritz is a high alpine Swiss ski resort with a stunning Lake as its centerpiece and towering Alps around. The ski village elevation is 1,800 meters above sea level, 5,900', so the mountain air is fresh and the sky is oft brilliantly blue and clear. The fairy-tale mountain scenery rivals the Jungfrau of Switzerland. Sister friendship resort of St Moritz? Vail of course! 
The skiing at St Moritz is divided amongst 4 ski areas – all spread-out and super scenic. Skiing at each mountain is unique and diverse – Corviglia, Corvatsch, Diavolzza and Lagalb, all on one ski pass. All tolled, St Moritz offers 350 kilometers of pistes (groomed marked ski trails) served by 59 lifts. You could easily ski here for a week of winter amusement.
Corviglia is the main mountain – called the "House mountain" by locals, with lots of lifts – two emanating from town, many prepared trails and plenty of mountain chalets. When fancy folks say they ski St Moritz – this is where they ski and want to be seen.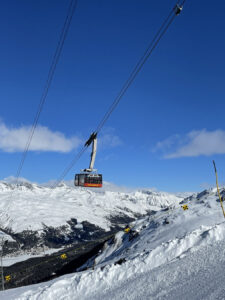 Corvatsch is more popular with freeskiers and riders, just a short trip, drive or bus, from town, with its own village of Silvaplana. With 35 marked trails and a dozen lifts, there are several valleys and peaks that shine in afternoon sun, fun terrain for families, with terrain parks for the kids, and several on mountain huts for lunch. 
Diavolezza and Lagalb are further from town, by bus or train. These ski areas are smaller, with more advanced terrain served by base to summit trams – well worth the visit and both can be skied in one day. Diavolezza is most famed for its long glacier run – an off-piste route "Langste Gletscherabfahrt" on the Morteratsch Glacier, it's a bucket list item for glacier lovers and adventurers alike. This epic run is also part of the Diavolezza Challenge, uphill ski to the top at 2978 meters and ski down the entire glacier run to the end at 1897-meters.
Lagalb ski area is just across the valley from Diazolezza, and worth skiing the same day. In fact its across the road (and train tracks), so you can ski to it, and take the frequent bus back. This smallest St Moritz ski area offers skiers steep trails on its limited terrain served by one tram from the humble base and parking area to 2983 meters, over 9,700'. The views of the Swiss Alps and the towering peaks of Italy are extraordinary, including Bernadina Peak at 4009 meters, over 10,000'.
St Moritz is famed, aside from it skiing, for its fancy ski clientele and glitzy winter parties. Original appeal here in the 1800s was mineral springs that well-to-do vacationers would seek out as a summer spa long before it was a spendy ski resort. Now the champagne flows more freely than the bubbling springs. Golf was also an early St Moritz pastime, hosting the first golf tournament in the Alps in 1889.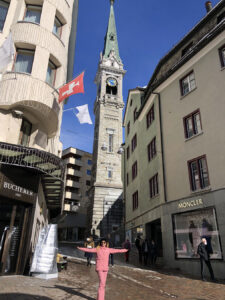 Winter tourism and skiing began its boom in St Moritz in 1864. One of the first ski lifts in Switzerland began running in 1935. Since, St Moritz has twice hosted the Winter Olympic, 1928 and 1948, plus many World Cup ski races, and now free riding events and Winter Polo.
Downtown St Moritz you will find every chic boutique imaginable – Prada, Moncler, Cartier, Valentino. Shopping at St Moritz, bring someone else's wallet, as you stroll the glam shops of Via Serlas.
Where to stay in St Moritz with 5000 hotels beds in St Moritz? The majority are 4 and 5 star hotels. The 1855 Kulm is the most posh and historic, a 5 star, even older than iconic Badrutts. But the lakeside castle of Badrutt's is legendary – and THE place to stay. Badrutt's is the "Grande Dame" of Top Swiss ski hotels and among the world's most regal and recognizable ski hotels, overlooking the lake – just steps to St Moritz chic shopping.
For non-skiers, Muottas Murgal is a scenic alpine tram to an overlook of the Engadin valley. This was the first St Moritz Cable Car in 1905. Today, its lifts you above St Moritz village to a panoramic scenic spot at 2456 meters, over 8,000'. It's a James Bond scene of beauty and adventure too for winter wanderers that want to hike this amazing high alpine.
St Moritz is rich (pun intended) with outdoor winter opportunities from "winter wandering" or Nordic skiing around the sunny frozen lake, to horse carriage rides, ice skating, and sledding.
Après ski in St Moritz, its a promenade of fur and fabulousness in town and at the glam hotel bars, or sidewalk cafes on sunny spring days. Evenings are lavish affairs with fancy dinners, followed by nightclubbing at a few secret spots of the celebs (Badrutt's Cave), for those who maybe didn't ski all day, or don't plan to tomorrow.
St Moritz is a must-see, must ski Swiss ski resort town with four ski areas, and more fun than one can stand – with the proper funding to enjoy. Other nearby ski resorts are Davos Klosters, Arosa Lenzerheide, and smaller resorts of Bivio and Savognin.