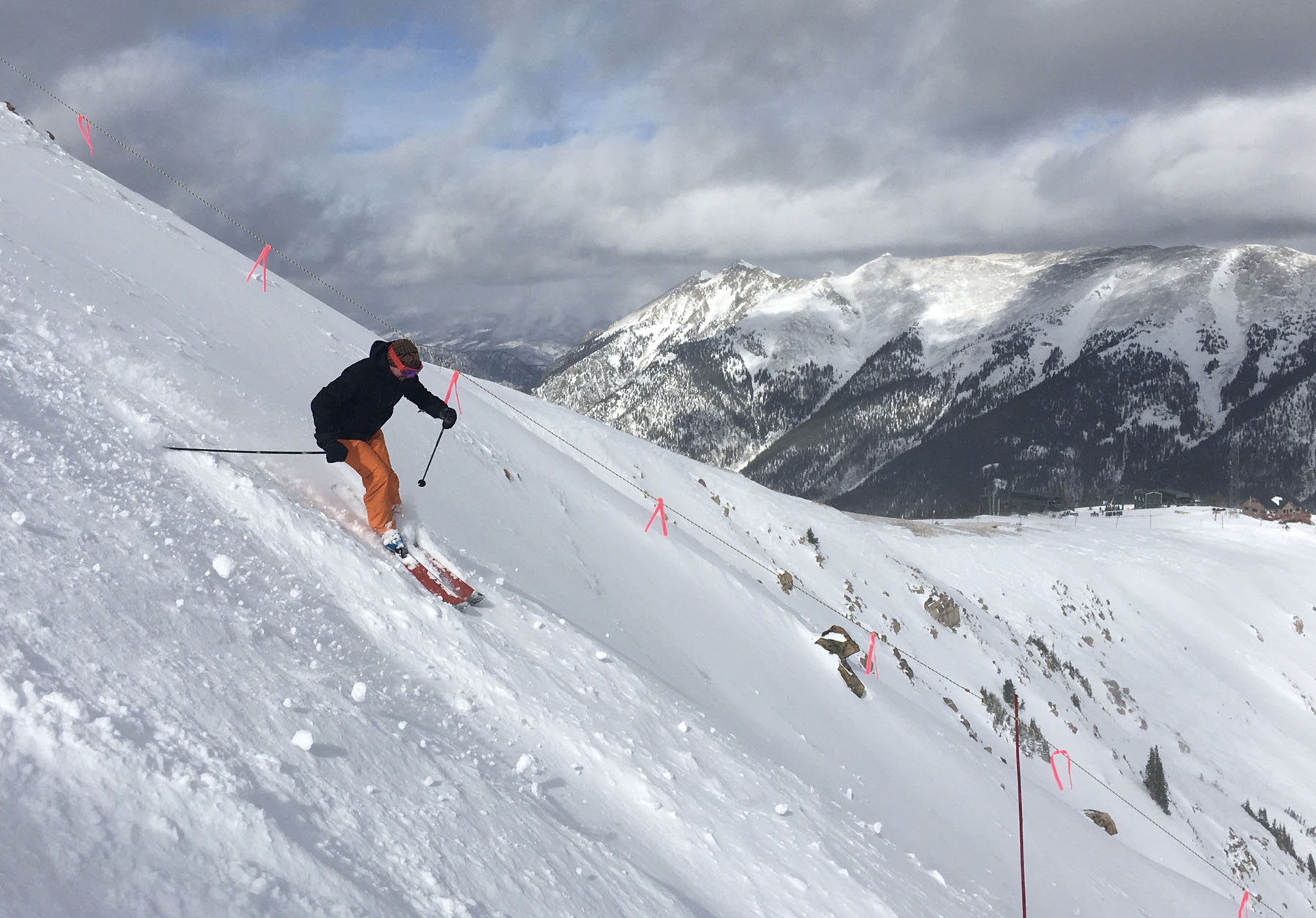 Top Skis for 2018
Annually, the best skiers and top ski manufacturers gather in Colorado to test next year's gear. Yes, it's a good gig, to demo the latest skis at Copper Mountain. We skied laps on 24 different skis each in 2 days – mens' skis and ladies' skis, from Blizzards to Rossignol, Head to Fischer, Black Crow, Kastle, Elan, Nordica to Faction and Armada. We also demo'd the latest technology in goggles, helmets, ski boots. All this free swag sampling was followed by an Après Ski Party with free beer and giveaways, or are you jealous enough already?! Here are our favorite new men's skis for 2018-19 ski season:
Top All Mountain Skis
Blizzard Rustler 9 is a winner in our test book. Two sheets of metal, the Rustler is strong, stable, loves to hold an edge, but still quick and smooth in mixed snow for a 99mm ski. The Rustler 10 is more all mountain versatile, and the Rustler 11 is Blizzard's bigger powder wrestler.
Volkl Mantra M5 ski has been reinvented, 5th time is the charm – hence the "M5". This re-tooled Mantra rocks tip and tail rocker so its fun but constructed to be fierce. We weren't big fans of Volkl's previous Mantra series, but this 2018 Mantra 5 could be your one quiver ski – it rips and grips on groomers and hard pack, but its just playful enough for fluff. The women's version is the Volkl Secret, shhh.
Head Kore 93 is a winner, its lightweight, fast, rips turns but is surprisingly smooth when you let it run at speed. Perhaps we shouldn't tell dudes that the Kore came from Head's popular Joy series for girls – but be assured the US Ski Team racers love this ski for their fun runs between race days. Head's patented polyester fleece top sheet and lightwood carbon core of graphene keep it light, but you'll be surprised how stable it skis.
Nordica Enforcer 93 mm is great on hard snow, stable at speed, and just floaty enough to be fun in 3-8″ of pow, a great East coast wide ski.
Rossi's Experience 98 HD continues to make our great ski list, versatile, fun, forgiving enough with a quick stable sense of self. Great front side ski, no wonder all the ski instructor are on Rossi 98s, surely its not for the basic boring color-block graphics. We love Rossi – since 1907.
Faction Prodigy 98 is surprisingly versatile, reliable and stable. Made in Switzerland, marketed from London, demo'ing these independent skis was a head turner for us.
Top Skis for Groomed Snow for 2018
Blizzard Quattro RS is the rip stick to be on in hard pack and those cord crushing days, this Austrian rocket ship has the narrow race style but is super stable at high speed, edges like a razor but is so responsive and quick. Never thought we'd ever love another 69mm ski, but Blizzard has brought "the return of the turn."
Rossignol Experience 88 HD and 84 HD – love to carve, these skis are versatile and quick – the most successful of the Experience family that Rossi has done so well with, from 81 up to 100mm. The Rossi 88 HD is  perfect for front side groomers, an exceptional East Coast winner.
Volkl RTM 84 continues to carve its name into the top carver ski list. We've loved this ski before, its stable, quick, nimble and fast. "Ride The Mountain" per its acronym.
Nordica GT Speedmachine– ok we love the name, and the high-performance smooth quick playful aspect of this Nordica 80mm or 84 mm groomer skis. Its light but precise, powerful and actually initiates turns for you. Impressive skis from the original ski boot maker since 1939.
Best Big Mountain Skis – Powder Skis for 2018
Blizzard Rustler 11 has been a winner for a while, this season is no different. Two sheets of metal, real wood, and flip core carbon, but the Rustler still floats and smears when you need to butter your beefy turns on this 112mm ski. 10 is more all around at 102mm under foot, that still holds an edge like a bull, hence the bull graphic.
Armada Tracer 108 and 118 have the sweet floaty factor of our favorite Armada JJ's, with just enough performance and sidecut to lay acarved turn when the mood strikes. A well-thought Armada ski with playfulness and power.
Nordica Enforcer 100 and 110 get high marks for all conditions, taking the place of its predecessor – The Patron. With a 100mm waist, or 110 for deep days, the Enforcer likes everything, leaves everyone behind too, stable at speeds, great in snow. Get your wife a matchy pair of Nordica Santa Ana's to match and you will be "that couple" turning heads on the slopes.
Rossignol Soul 7 HD is fun and fast, its been beefed up a bit for mixed snow –  that's the HD, so now its got a quickness you can't beat. Very versatile, just pardon Rossi's boring color graphics (snooze).
Rossignol's Super 7 HD is 116-millimeters with a rocker tapered tip and honeycomb technology that makes it float yet its responsive when you need to check your speed.
See our Review of the Best 2018-19 Women's Skis and More Ski Reviews

Have ski questions, comments or recommendations as to your favorite skis? Drop us a line at [email protected]