Baqueira Beret
Family ski holiday in Spain? Si! The Spanish Pyrenees are beautiful for a family ski trip. Baqueira Beret is Spain's largest ski resort and it's easy to reach – two hours from Toulouse France, over three from Barcelona. With 36 ski lifts serving 170 groomed marked trails, Baqueira Beret has as much acreage as Vail – 5,600 acres. On mountain lodging, Spanish cuisine, 24 ski schools with lessons and kids programs, and English spoken widely, make it ideal for a family ski holiday. For advanced skiers, there's off-piste opportunities, even heli-skiing. A favorite aspect of skiing in Spain is the culture, the history of the beautiful Val D'Aran, the scenery, the friendly Spaniards, tapas and vino too.
Baqueira Beret is the Aspen of Spain, big, beautiful, with so much terrain, in four interconnected areas – mostly above tree-line skiing at elevations between 1,500 – 2,610m, and 1100m (3,608') vertical. Baqueira' s central ski area, reached by gondola from 1,500 to the hub of Baqueira at 1,800m, brings you to a network of lodges, ski schools and lifts accessing big wide ski slopes groomed in all directions.
Get a family selfie at the panoramic 2,500m Cap de Baqueira summit platform. The view of The Pyrenees is amazing, including the highest Aneto at 3,404m, which host to this region's largest glacier- Maladeta.
Beret Costarjàs is south easternmost, easily reached with a few lifts from Baqueira and ideal in mornings with its sunny morning exposure. Kids will like the long groomed undulating cruisers and the high snowy plateau. Parent might enjoy a stop at the summit Codorniu umbrella bar for amazing views, a Spanish café or Cava (Spanish champagne).
The base of Beret is bustling, with more well-prepared ski runs plus a fun terrain park and Slalom racing arena. Here you will find 7-kilometers of groomed Nordic trails on a grand snowy meadow, plus snowmobiling and dog sledding with Montgarri Outdoors – fun family activities.
Baciver is the highest elevation skiing, reached by consecutive long pomas to 2,610 meters. A family favorite trail is Eth Coret that twists and turns through trees and boulders on groomed slopes. To ski Baqueira Beret's longest run from here, its 5-kilometers to the Gondola base for  1100 vertical meters, 3,608'.
Bonaigue is the westernmost skiing of Baquiera with great steep trails at La Peulla, and high plateau snow fields at la Llanca via poma.
For experts, Baqueira has off-piste galore at La Llanca, off the backside of Costarjas, and from Dossau. Hire a guide to explore and ski to the 12th century Refuge in Montgarri where a snowmobile will tow you back to Beret.
Baqueira gets big powder dumps, meters at a time bring lots of white, and white out conditions above tree-line, and conversely it can be excessively warm and sunny without a flake in sight. Baqueira Beret has the assurance of snowmaking, 710 snow cannons on most main trails.
On mountain dining at Baqueira Beret is a treat – leisurely lunches at umbrella bars or sunny lodge decks are part of the Spanish lifestyle, feasting on delicious jamon (ham) and cheese, tapas style bites and local Aranese stews accompanied by local wine. Cinco Jotas's at Baqueira 1800 is a stunning alpine lodge serving famous Iberico jamon (thinly sliced ham of acorn-fed pigs). Refugi San Miguel at Bonaigua is another scenic mountain restaurant with specialties of pizza, pasta, and rabbit escargot (yes, bunny and snails in one dish). Next door serves fantastic Tapas by a fireplace, with cozy couches and bar tables.
Après Ski on Baqueira – go to the swank MOET Winter Lounge for pricy Moet Champagne, sushi, and music from a DJ in a gondola on the deck. 2200 is a beautiful circular lodge with local wines for $3€, a more subdued but sunny atmosphere framed by outstanding views, and kids can play in the snow.
Baqueira in the Val D'Aran has 33 medieval villages, now home to traditional restaurants, shops and lodges catering to skiers, bikers and hikers in summer. Visit Gothic churches and an authentic cheese maker in Bagergue for a little education on vacation for the kids.
The Catalan people are friendly happy folks, proud of their land, their ancient cuisine, culture, and languages – speaking native Catalan and Aranese, but they are pleased to speak Spanish or English or a mix of both – Spanglish.
We skied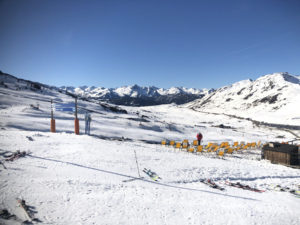 Baqueira-Beret in mid-February and found it delightfully uncrowded. We heard the ski slopes can get busy on holidays, especially Christmas when the 14,000 beds, hotels, lodges and luxury homes are full with families from nearby France, and Spain – especially Madrid "just" 6 hours away.
Spain's royal family has a ski house here, its where the chic Spaniards go. The Brits love Baqueira too, staying at the Eira Ski Lodge in Tanau. Americans have yet to discover skiing in Spain, but that will change – since you can have an affordable Alps like experience, accompanied by fabulous Spanish food and wine, often sunshine and scenery, and a family friendly vibe on snow.
Baqueira Beret Stats
5,600 acres of skiing and riding
36 lifts – including a gondola and 10 high speed chairs
170 kilometers of skiing, 112 pistes (trails) 80% groomed nightly
A vast variety of freeride and offpiste opportunities if the snow is right!
710 snow cannons for snowmaking
Summit Elevation is 2,610m or 8,562'
Vertical Drop: 1,100m or 3,608'
Snow Parks, Slalom race stadium, Fun Park for kids, 7 km of Nordic Trails
More on skiing Spain
Baqueira Beret Ski Site