Canada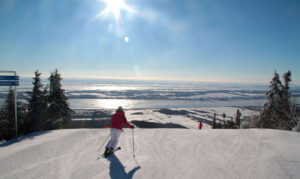 Canada is a country that embraces winter with big winter carnivals, cold snowy weather and some of the best alpine skiing for families on the planet.
Eastern Canada
Ski resorts in Quebec have all the ambiance of the European Alps. There is a French flair to skiing the Laurentian Mountains like Tremblant, from the language spoken to the après ski, and the overall joie de vivre of its people. There are old world chateaux and modern slopeside resorts at Le Massif and Mont Sainte Anne for your family to choose from. The northern location means plenty of snow and an inherent love of winter by its inhabitants.
Western Canada
Home to the magnificent Canadian Rockies, Purcells, Monashees, these tremendous peaks are a sight to behold, and an even better to ski. For centuries, travelers have been drawn to the glacially cut peaks of Alberta and BC that jut into the sky for sports and for scenery, Canada's National Parks and the winter sports that celebrate the snowy season here. The ski resorts in Canada are some of the biggest and arguably the best in the world. The accoutrements of fine lodges, dining and off slope entertainment like cross country skiing, skating, dog sledding and snowmobiling in Western Canada are world class too. See our reviews of Whistler Blackcomb,  Kicking Horse, Revelstoke and Panorama in British Columbia, and Alberta's Sunshine in Banff, Lake Louise, Norquay, Marmot Basin in Jasper, and smaller family ski resorts of Kimberley, Fernie and Castle. For heli skiing reviews, watch our Canadian heli ski videos and view our Canada ski photos.
Our Canadian Ski Reviews
Top Canada Ski Resorts for Families
Eastern Canada Ski Reviews
Tremblant Ski Resort
Le Massif Quebec
Mont Sainte Anne
Le Massif
Quebec's Best Family Ski Resorts
Quebec Best Ski Hotels – Le Châteaux Frontenac and Manoir Richelieu
Western Canada Family Skiing

British Columbia:
Big White Mountain Ski Resort
Fernie Alpine Resort
Kicking Horse
Kimberely Alpine Resort
Panorama
Revelstoke
Whistler Blackcomb
Cat Skiing in the Monashees
Purcell Heli Skiing
Heli Skiing with Bella Coola
Eagle Pass Heli Ski

Alberta:
Banff Sunshine
Castle Mountain
Lake Louise
Marmot Basin
Norquay

Banff  Lake Louise Ski Trip
Canada Rockies Family Ski Trip
Powder Highway Canada Ski Tour
Canada Ski Videos
Canada Ski Photos

Helicopter Skiing Survival Guide
Heli Ski Videos
Heli Skiing Safety Tips
Women's Heli Skiing