Castle Mountain Resort
Castle Mountain Resort is Alberta's second largest ski area in acreage, with over 3,592 acres of skiing (4 hours south of Lake Louise in Banff  Canada which has over 4,000).
Skiing Castle is cool, it has immense terrain, majestic mountain scapes, and a classic old-school vibe. With just 3 reliable fixed-grip lifts, two triples and a rustic summit double, Castle is skiing as it used to be. Castle offers mountains of expert terrain. Ride the central Sundance triple to the summit "Red Chair" double Tamarack and you are atop Castle's big 2,800' vertical of steep worthy terrain, no run outs, no crowds (except maybe a pow day at the Red Chair).
Castle Mountain is contentedly humble, in a happy time warp with a homey base lodge and long vintage lifts. What's extraordinary about Castle is its vast au-natural advanced ski terrain. From the 7,436' summit chair, you can traverse east or west and find tremendous above-tree-line snowy bowls, an abundance of steep chutes and trees. There is nothing easy off the summit, and the three Blue groomers seem pretty Black.
On a powder day, Castle's gated South Side Chutes offer over a dozen officially named steep runs (on the trail map but "off-piste") down to the Cinch Traverse that returns you to the base. You can ski all kinds of routes through the sparse wind-weathered pine and aspen glades along Huckleberry Ridge and Drifter inside the gates.
Ski Castle can be amazingly good or rather rugged. Powder days – epic. Cold windy days – harsh on those long lift rides to the exposed wind-swept summit snowfields. Even locals say, "Castle is either REALLY REALLY good, or really bad!"
You'll ski some of the longest, continuous fall line runs in North America at Castle. We skied 2.2 miles summit to base. We loved Bandito and High Noon, relatively steep the entire descent. There are 94 named ski runs on Castle.
For families, Castle's lower mountain eastern Huckleberry triple serves up half a dozen moderate family-friendly Blue and Green trails on a gently-pitched 1,000' vertical, often sunny and less wind-affected.
Beginners at Castle have the aptly-named Green Chair, a very tame 160' vertical with 3 mellow runs to the base, this terrain is lit up certain evenings for night skiing, including a small terrain park.
For lunch, go to the "T-Bar", a great pub and après ski bar at Castle's base. The Elk Meatloaf sandwich is phenomenal, and the pitchers of Kokanee beer flow, eh! T-Bar is one of those iconic cheerful ski pubs we just love, it's the only gig – so it's the place to go and gather! It makes our Top Canada Après Ski list.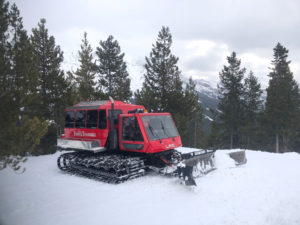 Castle has cat skiing, with a most unique set up, among a handful of resort-based cat skiing operations on the continent – like Powder in Utah, Brundage in Idaho, Grand Targhee in Wyoming. Castle's Powder Stagecoach is a great foray into cat or heli skiing, given the very reasonable $399 a day price and easy accessibility. Your day starts with briefing and breakfast, which is included. You then ride the Huckleberry chairlift up to the awaiting snowcat, which takes you out to 900 acres of pristine private ski terrain, and you ski back down to the lift with your group and guide, repeat. It's a fun affordable way to delve into cat skiing, where you are out adventuring. Cat skiing days at Castle average 6 to 8 unique runs during the course of your day.
Cool fact: Castle is community owned and operated, with about 200 mostly-local shareholders. Castle's mantra "we're about powder not profit" explains why there are slopeside chalets for rent and a few air bnbs, but no big hotel or condo development, and no high speed lifts. You can stay in Crowsnest Pass, an hour away, close to the British Columbia border, skiing Fernie and more Powder Highway resorts –Kimberley, Panorama, Kicking Horse and Revelstoke.
Check out Castle, no frills, just big mountain skiing, friendly Canadians, as their slogan "closer to Heaven, down to Earth" implies.
Even the ride to Castle is special, along Pincher Creek, past farms, fields, cattle, horse and deer grazing. Stop at Beaver Mills General Store for a blast from the past and a snack. Castle is along the Continental Divide, near Waterton National Park (and US Glacier National Park), and the breathtaking Crowsnest Pass – an historic mining area and beautiful mountain preserve for hiking and biking in summer, also home to the 1903 Frank Slide – a sight to behold.
Castle Mountain Resort is 3 hours south of Calgary, near the US border, 100 miles as the crow flies about to Whitefish Montana skiing in Montana.
WE LOVE Castle's Mission: "To break down the barriers between downhill fanatics and some of Canada's most natural and challenging terrain.  We will be the Holy Grail for people whose real passion in life is downhill." #SkiCastle
Castle Mountain Resort Stats:
3,592 acres
8 alpine bowls across 2 mountains
5 lifts, 94 trails
Summit Elevation: 7,463 feet/2,273 meters
Vertical: 2,833 feet/863 meters
Base: 4,630 feet/1,410 meters