Planning a Family Ski Vacation
Planning a ski trip with your family takes time, research, and of course – cash or credit card. There are so many ski resorts to choose from, so many destinations to consider, and finding the best ski resort for your family depends upon many factors.
1. How far do you want to travel? Can you find great resorts within a drive? Are your kids mature enough to fly?
If you are just learning to ski, you don't need to take the family ski trip out west or go to a high elevation, high price ski resort. You will be better served at a drive to ski resort, but ideally a resort that has all the family amenities like daycare, kids ski camp and on mountain lodging to make your trip comfortable and convenient. Ski resorts in New England like Sunday River, Sugarloaf, Okemo, Sugarbush, and Bretton Woods all have great family programs, excellent kids ski and ride camps, and slope side lodging options from ski in ski out hotels to on mountains condos for a ski week. Out west, ski resorts like Big Sky Montana and Snowmass at Aspen have excellent kids ski programs, après ski activities for the kids, and prime on mountain lodging. Reserve the family ski trip to Europe when the kids are mature enough to manage a red eye flight, time zones and foreign culture changes.
3. Avoid winter school vacation weeks and holidays, or Carnival in Europe. These peak periods are busier, and more expensive at ski resorts. Midweek ski vacations can save you serious money and you will find fewer people on the slopes and better availability at ski school and restaurants during your ski stay. Look for all inclusive family ski packages that include lodging, lift tickets, ski camps for the kids, rentals equipment and even a lesson or a dining coupon for mom and dad during their ski stay. Waterville Valley in New Hampshire offers an attractive Family Ski Week Unlimited for example with daily events après ski for families in addition to a great family ski and stay packages with kids ski lessons and daycare.
4. Think spring! The best skiing is typically late February, March and even early April. Later winter means more snowpack on the slopes and as you get closer to spring so the days get long and brighter. Skiing from Thanksgiving to New Years, the days are shortest, and afternoon skiing can be in flat light. A Christmas ski week can mean marginal snow conditions as it is early season, with maximum crowds, paying top dollar, as everyone is on holiday and eager for that White Christmas in the mountains. If you are skiing early season, look for ski resorts with the best snowmaking. An April family ski vacation over spring break is a great time to teach your kids to ski, temperatures are up, rates and occupancies are down, the days are sunny and pleasant. Sunscreen is more fun than full face masks and hand warmers.
5. Look online! Ski Resort websites offer a wealth of information including lodging, a ski trail map that shows you the terrain (green, blue and black trail designations) and on mountain services, and a ski resort Calendar of Events to help with your ski trip planning. You may not want to be at Aspen during the Winter X Games in January or Killington during a Grateful Dead tribute weekend with your young family, but Sunday River's Children's Fest in January is a great deal with lots of fun family events during the midweek ski week.
6. Scan the ski trail map to see if the ski resort has enough green circle trails for the beginners in your family, blue squares for the intermediates, and black diamonds if your kids are ready for that challenge. If mom and dad are expert skiers or riders, they want speedy modern lifts and some glades or bumps or steeps for their free skiing while the kids are at ski lessons.
7. Have a non skier in your family? Many ski resorts now offer fun things for the non-skier, ski resorts with spas and cross country or snowshoe tours are a great option. Some of the best ski towns, like Stowe, Steamboat, Vail and Telluride, have great downtowns with shopping, spas, historic districts, art galleries and museums to explore while the rest of the family is skiing. Then the family can meet up for après ski, a heated outdoor swimming pool, family movie night, dining and shopping in town, or a dog sled ride, sleigh ride or moonlight snowshoe to a yurt in the evening.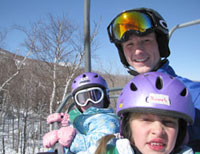 8. Finding the best ski schools is a big factor in choosing your family's ski vacation destination. Ask ski friends for their best ski resort recommendations, and see our best ski resorts for families in New England and the Rockies. What makes the best ski camp or snowboard camp for kids is friendly, well-trained ski instructors, quality slopeside facilities like a Children's Ski Center, and designated ski learning terrain for kids and families. Check the ski resort website for ski school and kids snowboard camp checklists. Do they offer an all day ski camp with lunch, lessons and equipment? Call the ski resort directly and speak to the ski school and ski area daycare about what is provided in an all day nursery or ski camp and what you should plan to bring, and pay. By calling the ski school desk or nursery, you will get a sense of their ski resort's organization, experience and friendliness. Reserve space for your child for peak ski holiday and weekends at ski camp and ski resort daycare.
Ski area mascots are a bonus, as they make kids smile and reduce anxiety about going to ski camp. Some of the best family-oriented ski resorts have taken a page from the Disney playbook, Sugarloaf's Amos the Moose and Blueberry Bear are a big hit with kids at ski camp. Smugglers North in Vermont has a cast of characters, mascots from Mogul Mouse to Frosty the Snowmaker. Ski area mascot help make lasting mountain memories for your kids, and great family ski photo op. Kids love seeing Mogul Mouse at the bonfire at the end of the ski day, roasting s'mores is the icing on the perfect ski camp day and will have them wanting to go back to ski camp the next day!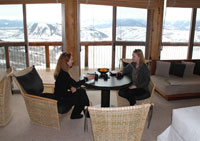 9. Ski resort lodging for families can vary greatly. Shop around and decide if you would like a ski condo or ski resort hotel. A ski condo on the slopes provides your family a home away from home with private bedrooms, typically a full kitchen to make meals on your ski vacation, and some extra living space. Ask about laundry facilities, swimming pool access, and daily housekeeping – as these things are not always included. See our Tips for Packing for a Family Ski Trip
An on mountain hotel is another option for ski families that don't want to cook on ski vacation, but the rooms can be more traditional with two queen beds or possibly a family suite with two interconnected hotel style rooms. The nice thing about a ski hotel is you usually have a ski valet that checks your skis at night, and daily maid service. The best ski hotels are typically ski in ski out, and many ski hotels have indoor or outdoor heated pools, game rooms for the kids, spa and fitness facilities, and a restaurant and bar on site. A ski hotel vacation is full service; where a ski condo is self service with more of a home atmosphere. Staying at Inns or Bed and Breakfasts in ski country with your family can be charming, but also can be tight quarters for a family. While a home cooked breakfast at your ski inn may be included, separate sleeping away from the kids may not.
10. As your kids grow and become more expert skiers and snowboarders, you can start to plan family ski trips out west or even to Europe. Flying to a ski resort with your family is more expensive and involved, so it is best to wait until your kids are mature enough to handle the jetleg and hassle that comes with airports, flying, car rentals, etc.
Elevation Warning: Western ski resorts are higher in elevation – so staying hydrated to prevent altitude sickness is important. Some children are more susceptible to skiing altitude effects than others – despite physical fitness levels. Drinking water, regular sleep and healthy eating, plus time to acclimate, are keys to a successful ski trip at big western ski resorts. Once your kids are skiing blue and black diamond terrain, and are excited about going on a big family ski trip – a week out west skiing the Rockies is the family ski trip of a lifetime. Same goes for a family ski trip to Europe, make sure the kids are expert skiers and good healthy travelers before you spend big bucks on a ski week at St Anton.
See more of our Family Ski Tips and Family Ski Resort Reviews