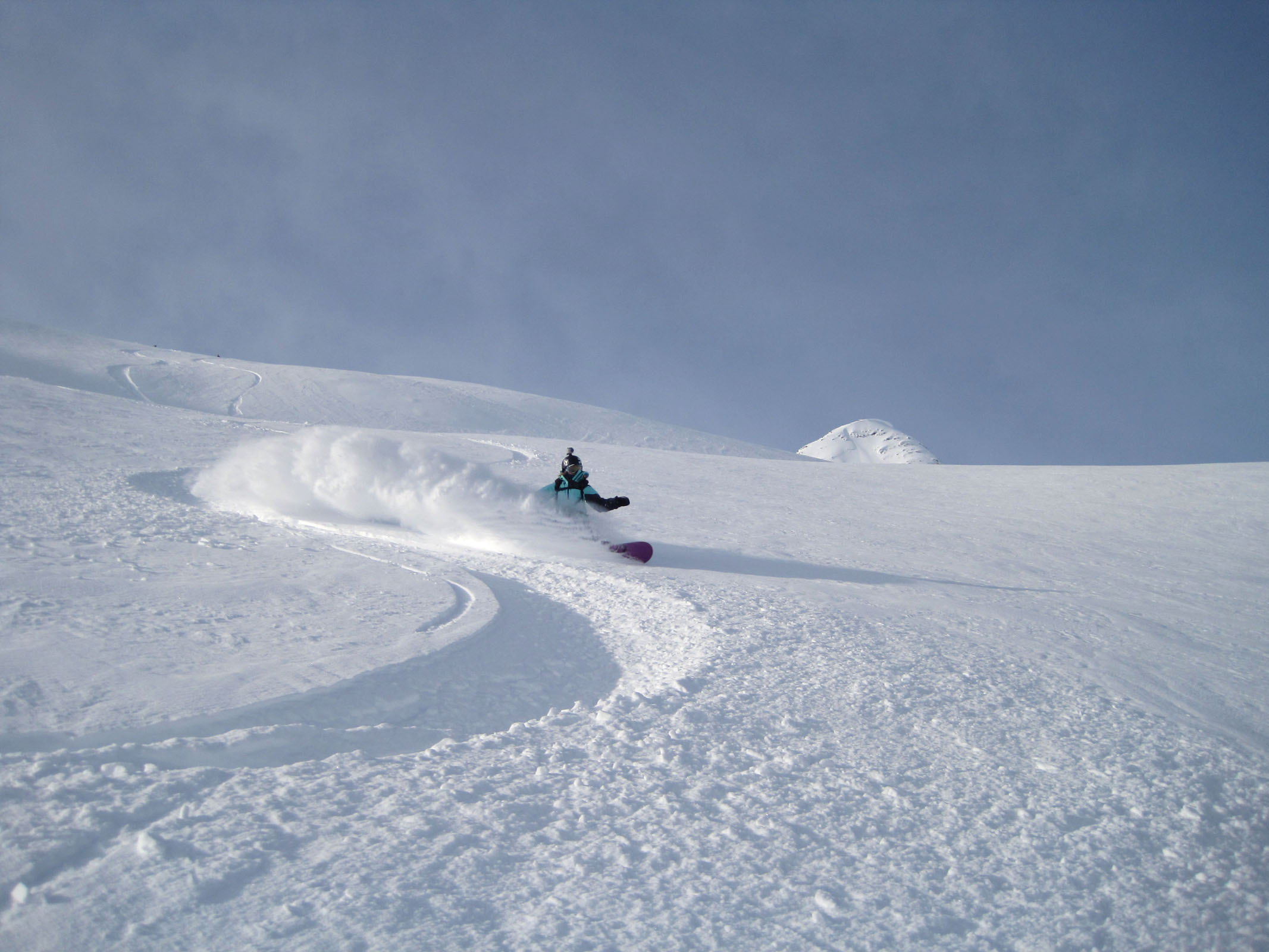 Heli Skiing Tips
Heli skiing is an elitist sport on snow. yes, its expensive, yes, there are risks, yes, it requires serious ski skills, yes, its amazing! Getting to remote mountain locations that are drenched in deep snow is the first travel challenge, then being chauffeured in a private helicopter only adds to the cache if you will pardon our pun. Logistics and price are prohibitive, then there are safety concerns. Seems daunting…all to ski deep snow. Well like many of the best things in life, with the high cost and risk come the reward. You need to be prepared, knowledgeable, and in good physical and mental shape to have the best heli ski trip, a ski trip of a lifetime.
10 tips for the best heli ski trip
1. Do you homework on heli ski operations. There are many heli-skiing companies in British Columbia, Canada especially that range from a few days to a week. Some heli ski outlets like CMH and Mike Wiegele serve a large clientele, using bigger helicopters and large lodges. Others are smaller and more exclusive like Bella Coola Heli Sport which hosts just 15 skiers in their lovely Tweedsmuir Lodge and private cabins. Bella Coola's A-star helicopter seats just four skiers and a guide plus the pilot so you access awesome terrain. Purcell Heli Skiing and also use smaller helicopters for their day heli ski operations.
2. Start with a heli ski day before committing to a week, with a heli ski operation located near a ski resort. At Kicking Horse you can day heli ski with Purcell Heli Skiing. Also in BC, Panorama has RK Heli Skiing next door so you can heli ski for a day to see if you want to book a week. Eagle Pass Heli-Ski is based in Revelstoke, also Selkirk Tangiers ,giving you the flexibility of resort skiing and heli skiing. It's likely you will be hooked on heli skiing.
3. Be a strong skier, get in shape. You don't want to be the weakest link, holding up your heli ski group. Condition are variable, so is the terrain, be prepared to ski anything and everything. Some heli ski tenure, like the Monashees with Eagle Pass, includes more skiing in the trees than big snow fields – so high alpine weather and avalanche danger are reduced, but heli glade skiing is different from the photos of endless snow covered summits and wide open powder bowls. See Tips on Women's Heli Skiing.
4. Be prepared for the wild helicopter ride. This is a big part of the price of admission, and a large part of the fun factor. Flying around untouched mountain peaks in remote mountain ranges is spectacular and exciting. Being deposited with just your skis and your guide on a pointed summit at 10,000 feet with the flurry of snow and chopper blades whirring above is your average commute.
5. Heli skiing lodging can vary greatly. At the beautiful Tweedsmuir Park Lodge in BC, you have your own private cabin, a hot tub and masseuse at your beckon call, the helicopter picks you up right outside the main lodge after a chef's bountiful breakfast, and returns you at day's end to the 60 acres resort compound for an evening of fine dining, with an extensive wine list, and camaraderie with your new ski buddies around the fireplace. There are also places that resemble winter camping with yurts, woodstoves, and outhouses…not our cup of tea at luxury ski trips.
6. Pay Attention. Heli skiing is relatively safe, but you are significant factor. Your guide presents the safety protocol, how to use beacons (transceivers), shovels and probes. But it's your job to pay attention during the heli skiing safety briefing, to wear your helicopter seat belt, to be aware of your surroundings while you are skiing, and to ski where the guide tells you. Do not ever ski pass your guide, or you could find yourself in a crevasse or an avalanche slide. Heli ski guides are highly trained and very thorough in their snow safety checks, analyzing snow stability and weather to assure the safest ski conditions. Most heli-ski accidents happen when skiers or snowboarders ski beyond the guide's designated zones. Take the heli ski safety seriously, and respect the guide's instruction, experience, and discretion.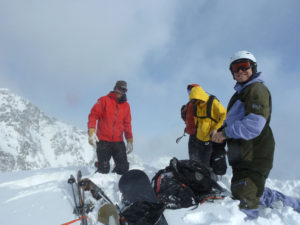 7. Dress in layers. Heli skiing is a work out, in good way, from your heli ski safety training to loading and unloading the chopper, skiing deep pow and waiting for the heli copter to pick you up and do it again – your core temp and extremities will fluctuate from warm and tingly to chilly. Technical fabrics with wicking and quality base layers, plus water resistance outerwear to keep you dry in deep snow (and in the event you fall – no worries the snow is usually fluffy) are highly recommend for heli skiing. Goggles are a must, helmets are recommended but not usually a requirement. Magnetic zippers are a no-no since they can interfere with your avalanche receiver.
8. Fat powder skis are a life-saver, often provided and included in your heli ski cost. If not, you will want fat skis or a powder board. Bring your own ski boots for comfort. Transceivers, also known as peeps, or avalung avi air bags are outfitted by your heli ski tour operator as well.
9. Eat a healthy during your heli ski trip. You will need energy to sustain you until the on mountain catered picnic lunch served chopper style – in a flat spot on the mountianDrink lots of water the week prior to your heli ski adventure to hydrate in anticipation of the elevation, you will be at significant elevation in a quick copter ascent.
10. Ladies heli skiing, a distinct minority in heli skiing (our editor Heather is usually the only girl in the heli-ski group), be prepared that your restroom facilities will be entirely au naturelle outdoors during your heli ski day – call it your big powder room. Read: you will have to pack out a place in the snow to squat and go. No one said heli skiing was glamorous, but more women when should try and fly – heli skiing. Represent well among the guys, k?!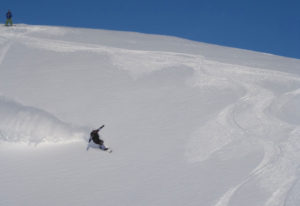 Heli ski safety stats:
Heli skiing is safer than highway travel. According to a Backcountry.com study, the heli ski fatality rate is .018 % (usually from avalanche) versus .022% for car accidents. The Avalanche Airbag, a Swiss designed inflatable neck ring that you deploy if you are caught in an avalanche reduces your risk even more.
A. Heli skiing has its ups and downs literally. Helicopters require visibility and moderate wind. High alpine terrain isn't always clear or calm, so there are times when you just can't fly into the mountains. Operations that also offer cat skiing can improve your options of getting out. Heli ski down days happen, about 20-50% of the time depending upon the season and your location. Accept your fate, relax and enjoy your new ski friends with games, or enjoy a good book. Be ready when the clouds break, but be patient when they don't.
B. Snow conditions are variable. Just like at ski resorts, heli skiing snow conditions change daily with weather. There are no groomers, so the terrain is wild and untouched. That can mean deep powder, but it can be windblown too. To enjoy heli skiing you should be an expert skier or snowboarder, skilled to handle any terrain from trees to wide open white out conditions. Heli skiing is not for intermediate skiers. Tip: when packing for your ski trip use the skis provided at the heli ski company, they have fat reverse camber powder skis and poles, so you don't have to lug your gear or pay airline fees for skis or worry about lost luggage. Just bring your ski boots – in your carry on with your ski clothes.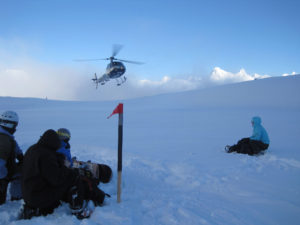 C. The helicopter and the vertical package matter. An A star B2 copter holds just 4 skiers and a guide, plus the pilot, so your group is going to have very exclusive service and snow and maneuverability. Compare that to a big 212 chopper that holds 11 people and that means more tracks, more potential for mediocre skiers in your pack and more waiting while you are skiing, loading and unloading. Ask about the size of the helicopter, how many guides per group, and how many groups will be sharing the helicopter on your fly day.
Vertical feet of skiing included in your heli package is a major part of the expensive. Often heli skiers tend to go over their allotted 100,000 vertical in a week for example, adding onto your already expensive heli ski vacation. Some heli aficionados claim that you are better off paying for flying time, even at $2,500 an hour, split 4 or 5.
D. Heli skiing is expensive, but it's worth it. When you fly to the top of a spectacular snow covered mountain, high in elevation, with untouched snow and magnificent peaks surrounding you, no civilization in sight…well, there is nothing like it in the world. Bouncing down deep fluffy powder, miles away from any ski lift or lodge, just you and the snow and the hoots of your few heli mates is heavenly. Heli skiing is excusive, extraordinary and every expert skier's dream. It's also addictive, warning: in bounds ski resort terrain may seem mundane after a week of heli skiing.
See our reviews of  Bella Coola Heli Skiing,  Purcell Heli Skiing,  Eagle Pass Heli-Ski and Monashee Cat Skiing for the more heli and snow cat skiing operations in Canada.
More on Surviving Heli-skiing l Heli Ski Videos l Heli skiing for women l Heli Ski Tips l Cat Skiing Tips