Best Resorts for Spring Skiing in New England
Why do parents take their family skiing in snow-deprived December or jaw-clenching cold January? Thye pay premiums for Christmas and Februarys ski vacations, when snow can be thin and crowds thick. But come spring, when deep snow pack, high sun and the best conditions prevail, a ski trip is the last thing on a family's agenda.
Springtime is the best time to get your kids on skis, call it March gladness not New Year's madness. Switching to summer sports just because the calendar and the retail stores say its "spring" is short sighted and a disservice to your little downhillers.
New England in March and April brings more snow showers more than bike rides and flowers. Killington has stayed open for skiing through Memorial Day the last three seasons. There is typically plenty of man-made snow through April, the only things missing are the huge holiday crowds, hand warmers and face masks. Temperatures are pleasant, no longer below 0 like popular Martin Luther King weekend. Ski resort lodging and lift ticket rates drop as crowds diminish. Springtime ski trails are well covered and sunny, even equipment prices hit bottom as retailers make way for next season's gear. Of note, the best ski events of the season are typically in spring, Sugarloaf's Reggaefest, Parrothead at Sunday River and the Bear Mountain Challenge at Killington.
Here are some ski resorts in New England that shine come spring time:
Killington blows lots of snow and keeps their lifts and events cranking until May on Superstar. The Beast of the East has been the last ski resort spinning Memorial Day 2018-2013, beating out Sugarloaf and Jay Peak. Killington has really improved their Ramshead Family Center in recent years, this is a convenient central area for families to access the beginner slopes, and get lessons and rentals. Look for lodging deals in the hotel and condos as the spring season unfolds, but late season only the Superstar quad runs.
Sugarloaf in Maine has elevation and a northern location. The King of Spring keeps going until May often, so you can ski the Loaf for spring break. The Loaf even has a "beach" in front of the base lodge, with sun and snow – no sand. The Loaf rolls out the fun in spring. Easter is a very festive time with Sugarloaf's Sunrise Service on the mountain, plus costume parades and egg hunts for the kids. Reggaefest at Sugarloaf is more oriented to adults (most of whom like music and partying more than skiing). Sugarloaf has slopeside lodging aplenty, mountain mascots and excellent kids' learn to ski and ride programs.
Sunday River stockpiles snow all winter, and the lifts typcially keep spinning until May 1, Ski Maynia when its free. April vacation for the family on snow is a good idea here, as are spring events like Parrot Head and pond skimming. Sunday River resort area has plenty of beds and late season deals can be found for families whether you want condominium convenience or hotel lodging.
Sugarbush, Jay Peak, and Stowe make significant snow to top off their natural bounty and stay open as late as possible, into April with special events on Easter. Jay Peak and Sugarbush made it to May 2016-2014.
Wildcat is a great late season New Hampshire ski area, skiing until May 3, 2015. The elevation high in the White Mountains means more snow, Wildcat stays open till May some years. Lodge in nearby North Conway or Jackson, and make tracks for the Cat. Wildcat offers late season lift ticket deals, so be ready to pounce on those wild tickets.
Loon, now owned by Boyne along with Sunday River and Sugarloaf, has NH's best snowmaking these days, and stays open into April with fun spring ski events.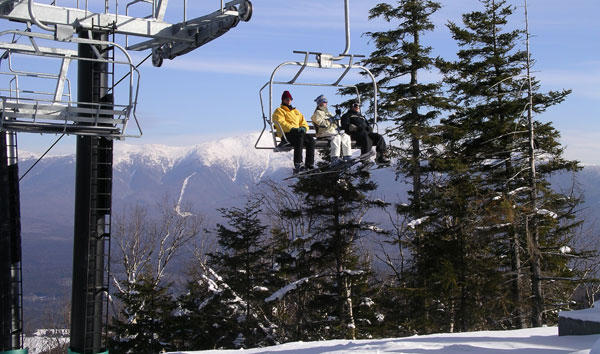 Bretton Woods makes mounds of snow all season, and they remain open till mid-April, even offering deals like $17.76 skiing Patriots Day. Their Hobbit ski and snowboard school is exceptionally good for young kids. Make a vacation out of it with the kids ski and stay free "no kidding" package. Stay at the elegant Hotel Mount Washington, ski the slopes of Bretton Woods, and the kids (12 and under) have free lodging and lift tickets. The gorgeous scenery of majestic Mount Washington is also complimentary.
Tuckerman Ravine is free, but you earn your turns with a 3 mile hike hauling your ski gear up the eastern flank of Mount Washington across Pinkham Notch from Wildcat. Skiing Tucks is a big day, and seriously steep terrain, and along ski out on the Sherburne Trail when snow allows. Tuckerman's often stays open for skiing with good snow pack into May, with a hard corps skiers party at the Lunch Rocks!
Instead of packing up the posse to go to Florida for April vacation, book a late season ski and stay package at a resort with snowmaking and elevation. Pack the sunscreen and the camera to take lots of photos of your kids skiing and snowboarding on the sunny slopes. See our Favorite Spring Ski Trails in the East, and ski em all. You and the family will feel like king of the hill, not just another mouse running around Mickey's amusement park. See our tips on Storing your Ski Gear properly after those last sweet ski runs.