Tubing at New England Ski Resorts
When I first witnessed tubing parks popping up on ski slopes, I thought it a shameful waste of snow space. Ski slopes are for skiing, and ok – snowboarding. Well, that was a decade ago and now the majority of New England ski areas devote a snow-covered incline that's groomed and banked for the senseless sport of tubing. I finally caved and tubed with my kids. Now I see the beauty of bounding down hill on an overblown tube. I defy you to try tubing without laughing, or at least smiling. It really is fun, in its simplicity and silliness.
Tip on Tubing – How to Snowtube
Tubing is easy, it requires very little athletic ability, if you can walk and sit – you too can be a "tuber." And many resorts have taken the hike up the hill out of the equation with lifts that pull you & your tube back to the top.
Tubing is affordable (averaging about $12 for an hour of fun). Tubing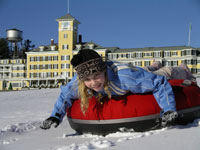 can be enjoyed in lieu of skiing or after skiing, many tubing facilities are lighted at night. Tubing can be multi-generational; grandma, mom, and daughter can all slide simultaneously. Like Disney's rides, some height restrictions apply (must be 42" or taller typically).
Tubing doesn't even require special attire. You can tube in jeans, although I recommend waterproof pants and a parka, hat and gloves are prudent. Goggles are a smart idea if you choose the seal on its stomach position (this face first technique is best saved for the more experienced uber-tuber). It can't hurt to have a helmet either. Ski boots are not recommended, and often against tubing hill rules. Isn't that a kick in the head? Or perhaps that's what they are trying to prevent.
Today's tubes are above and beyond cafeteria trays we used to sneak out of the lodge to slide on. Tubes are now high tech and custom designed for optimum sliding, some are even equipped with hand brakes, which beats dragging your feet to slow down. Snow tubes, like their summer water sports model, come complete with hand grips and a hook that attaches to the surface lift to haul them back up the hill.
Tubing park are groomed, dramatically better than the icy, lumpy, bumpy sledding backyard hills of yore. Ski resorts groom to perfection their parks so you can slide uninterrupted (read: no rocks, stumps or bare spots). Some resorts have cranked up your careen down the hill with elaborate swerving tracks and banked turns to add to the thrill of the ride. So when you plunk down ten bucks for an hour, take comfort that you are buying snowmaking, sophisticated grooming and a couch-like ride for your bottom half. A ride back up at the end, instead of schlepping your sled, is a bonus.
Here are a few resorts that offer tubing on their slopes:
Massachusetts
Nashoba Valley has the largest tubing park in New England with fifteen lanes and four lifts, and a separate lodge and entrance from the ski area, its open daily. Butternut has five chutes for tubing and a designated handle tow at its ski area, Ski Ward has the TubaSlide Park with five lanes and a tow lift.
Maine
Sugarloaf has Turbo Tubing, with a brand new venue – The Landing in front of the base lodge, and new tubes with hand brakes and steering.
Sunday River has tubing most evenings at White Cap Fun Center, a good pick on nights when there are fireworks, or if the parents want to go inside the Brewpub opting for a 'tini instead of a tube.
Mt Abram has the longest tubing hill in Maine at 1,325', called the Flying Squirrel Tubing Hill with a tow and three runs. Black Mountain in Maine has "The Edge" tubing park with four lanes.
New Hampshire
Gunstock has New Hampshire's longest tubing hill. The Thrill Hill is 825' with a handle tow for $15 for two hours. Gunstock also has the longest Zipline Span in the continental US, read our Gunstock Zipline review.
Pat's Peak has a 600' Tubing Park on the Gutsy Trail served by a J-Bar open Fri. – Sun. To put a cool spin on your kid's winter birthday, Pat's Peak hosts Snow Tubing Birthday Parties.
King Pine's Pine Meadows Tubing Park is open Friday nights, Saturday and Sunday plus holidays, $15 for two hours for lift-serviced tubing.
Cranmore has a seven lane Artic Blast Tubing Center with two lifts and lights. Cranmore sells a $99 season pass for tubing. Thursday nights, Cranmore hosts "Tubin' for a Cause" where ticket proceeds go to a local charity.
Loon offers steerable and stoppable tubes for rent daily in front of the Octagon Lodge, with lift service on the Little Sister Chair. For kids under 8, Loon has Tot Tubing at the base.
Vermont
Magic Mountain has the Alacazam Tubing Park. Ascutney Mountain Resort's Tubing Hill is located right in front of the Resort Hotel and is open from 9 am to 9 pm daily.
Smugglers Notch offers Sir Henry's Tubing Hill with two lanes and a conveyor lift, open and lighted daily from 5- 9:00 pm. Tubing is included in all Club Smugglers' Advantage lodging packages.
Try tubing this winter with your family. Don't over think it. Just sit on the spongy inflated ring, start sliding and giggling. You don't have to be genius, or genetically predisposed, to enjoy this funny, fun family activity. And don't forget to yell as you tube, wahoo!
Check out our Zipline Review and our Mountain Coaster Zipline Guide and our Ski Area Mountain Biking Review