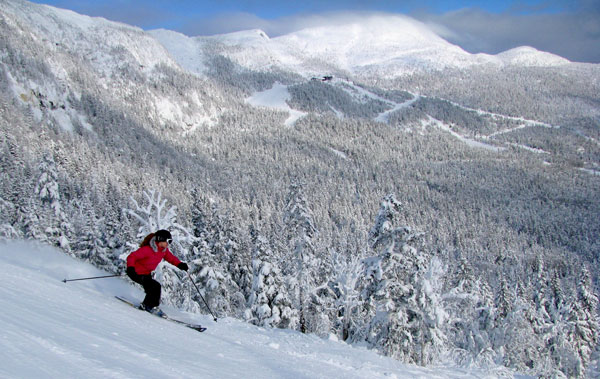 Love Affair with Stowe
It's been a family affair – our love of Stowe. My mom introduced me to the "Ski Capital of the Eas
t" when I was a teen. I had grown up skiing on the backside, Smugglers' Notch, so she was excited to show me "how the other side lives and skis." I remember it was a perfect sunny spring day, the snow softened under each turn on the steep scenic trails – it was love at first sight. I felt honored to finally ski the legendary Front Four. I loved Stowe and Stowe loved me back.
Fast forward to 2017, Vail Resorts loves Stowe too– enough to buy the resort for $50 mill! Now Stowe is on the Epic Pass…love that! But back to my love affair with Stowe…
My first ski date with my now husband was another postcard spring ski day at Stowe. We bashed the moguls on narrow gnarly Starr and Goat, enjoyed a scenic spectacular fondue lunch at Cliff House atop Stowe's bright red Gondola – we scored a private gondi car too – ooh. Then we toasted our epic 30,000′ vertical of tracks at après ski at the Matterhorn on Stowe's vibrant Mountain Road(we were young, amorous and ambitious).
Taking our t
wo kids to Stowe was a rite of passage. We waited until they were old enough to appreciate Stowe's steep terrain and the scenery, they were 8 and 10, and we chose spring time for their Stowe introduction. Our son declared Goat his favorite trail – Greatest Of All Time – upon conquering the big bumps in the sunshine. We were so proud, Stowe proud. Our daughter loved the twists and turns of Chin Clip and a few secret glades that we can not, will not, disclose still – sworn to Stowe secrecy.
Stowe is incredibly scenic, as you ski down Mt Mansfield – Vermont's highest peak at 4,395'. Stowe is historic, with the first alpine trails like Nose Dive cut by the C.C.C. back in 1935, and Stowe is hard core with its formidable Front Four trails. But don't let Stowe's terrain scare you away, the ski area offers plenty of gorgeous cruisers – Sunrise and Lord, Gondolier and Perry Merrill, plus a separate Spruce Peak with intermediate and beginner terrain, connected by a 10 person "Over Easy" gondola.
Spruce Peak has transformed again – with the amazing regal Spruce Village – an upscale skiers' pedestrian village with Stowe's Lodge at Spruce Peak as a grand centerpiece. This Lodge is the ultimate in alpine elegance, 5 star, more Deer Valley than Vermont – but worth a stay (check out their special ski and stay).
Staying at The Lodge we are catered to from Valet that whisk our car away, to Bellhops that haul all our ski gear with a smile to our stately ski slope view suite, while the Ski Butler stores our ski boots warm and dry, and carries our skis out in the morning and back in at night, to an alpine concierge who will arrange dinner reservations, a spa appointment, or a trip into downtown Stowe.
The Spa at The Lodge is a must, soak your tired ski muscles in the immense mountain view outdoor pool and hot tubs, before splurging on the latest greatest Spa treatment – a couples massage, CBD wrap or crytherapy for aesthetics and muscle recovery. The Spa Robes alone are absolutely plush, posh and perfection.
Enjoy a cocktail at après ski at Hourglass overlooking the luxurious lobby's fireplaces, birch trees, soaring beams and stonework. Skate on
the centerpiece outdoor ice rink or climb the rock wall for more family friendly après ski, or let the kids skate while you watch from the cozy WhistlePig whiskey bar.
For dinner, Hourglass serves a Vermont Cheddar burger that's easily "the best cheeseburger in ski country" with its Vermont maple bacon. Solstice is teh Lodge's upscale dining room with an extraordiatnry menu of farm to fork. Treat yourself to Chef's Table for an exclusively prepared multi-course culinary night with wines paired just right, and a front row view of the bustling kitchen theatrics.
Speaking of theatre, Stowe has its own Performing Arts Center in the heart of Spruce Village with evening concerts, dance and more. Or go to the Speak Easy – called The Linehouse for late night cocktails and tunes.
Stowe's Mountain Road also offers countless cool Vermont restaurants and aprés ski bars – like the good 'ole Matterhorn, and plenty of lodging places – with a wide wallet range. From the posh Topnotch and Green Mountain Inn, to the quirky Field Guide Lark Hotel or the classic Trapp Family Lodge, or basic Stowe motels – there's lots of beds to rest your head.
If you haven't been to Stowe in a while, or your kids have never been, its times to go to Stowe! Its Epic now, with on mountain lodging, and still the best skiing in the East, according to my love affair anyway…
Take your loved ones to Stowe. Teach them the lore of the Front Four, challenge them to ski 10 by 10 (ten runs by ten o'clock – quad open weekends at 7:30!), ski by the 1936 Stone Hut atop the Quad, ride the bright ride gondola car up Vermont's tallest peak, lunch at the scenic Cliff House, and stay at the most posh on-mountain hotel in the East – Stowe's Lodge at Spruce Peak.
I will always cherish my first trip to Stowe, as my parents, my husband and my kids do, yours will too. As for me… I fall more in love with Stowe every time I go!
More on skiing Vermont…