Pico – the Beast of the East's friendlier side
The morning sun is glittering on the fresh blanket of Vermont snow. My 7-year-old daughter and I are riding the Golden Express quad. We are seated next to Erling Omland. As we lower the safety bar, he frankly volunteers that he has been skiing since 1922, when he was 3 years old. While I am doing some quick math in my head, he bursts into song about Pico Mountain in Vermont.
I ski Pico, the friendliest mountain you'll ever know," he chimes with intermittent yodels.
"Wow, he is nuts about this place," my daughter, Aspen, whispers. What's not to love this morning, I think to myself. Ten inches of powder, the sun is out, I am being whisked to the 3,967-foot summit on a high-speed quad. As a bonus, there is a minimal crowd of skiers and riders for a Saturday in February. Oh well, more fresh tracks for me!
We glide over the fresh white layer covering the Fool's Gold trail headed toward the summit express quad. From the breathtaking Pico summit, big brother Killington and its expansive network of lifts and trails come into view. From this distance, Killington looks alluring, but today "we ski Pico" as Omland suggested in his song, and it is friendly indeed.
We shared the 52 trails spread out over two peaks with only a handful of people, making the day one of best of our season. From the summit, we threaded our way through the spaciously trimmed Birch Glades, then moved on to The Pike, the liftline trail with a consistent pitch and plenty of width for my daughter's erratic turns. The twisty-turny KA — named for Karl Acker, one of the original Pico skiers — was our next choice.
On the western flank of the mountain, the kids loved exploring the themed trails like Bronco, Sidewinder, Stampede and Wrangler, all served by the Outpost double chair.
My husband Greg and son Ian were now eager to test their mettle on Giant Killer, one of the steepest at Pico. We gals stuck to 49er, the steady blue square run, where the snow was silky, and the views were superb.
"Like a day off" A ski patroller who joined us for one of our many quad chair ascents said, "My rotation days at Pico Mountainare like a day off. It's so peaceful over here compared to Killington, where its just code after code all day long." ("Code" is patrol-speak for accident.)
The only thing to slow down our run count was a leisurely lunch back at our slopeside condominium, some tired legs, and a promise to visit the Health Club's heated pool and hot tubs.
It was such a refreshing day, no lift lines, no busy intersections, no angry mobs. Not once did I fear for my kids' safety on the slopes, a common concern at more popular ski resorts.
Pico is a classic Vermont ski mountain, with almost 2,000 vertical feet (1967′) served by seven lifts including two high-speed quads. The central base is a comfort to me, with two adventuresome but young kids. No matter where their skis wander, I can meet them at the bottom.
"It's a sin how Pico is underutilized, and yet it's a privilege to have our own private mountain," said Omland.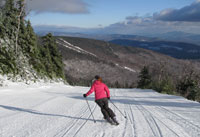 First T-Bar Today, Pico is one of skiing's best kept secrets despite a history dating to the 1920s, nearly 40 years before the more famous Killington began to take shape. The first T-Bar in North American was at Pico.
The founders, Brad and Janet Mead, upon returning from a trip to Davos, Switzerland, thought this alpine setting of Vermont would be an ideal destination ski resort.
Pico has since launched some great racers, including the resort founders' daughter, Andrea Mead Lawrence. She learned to ski at Pico and went on to win double Golds in the 1952 Olympics in Norway, a feat no other U.S. ski racer has matched.
America's ski racing sweetheart Suzy Chaffee, best known for her '60s vintage tight stretch pants and the Suzy "Chapstick" ads, made her first turns here as well.
The quaint ski area and clock tower village that have evolved are considerably more humble than internationally glitzy Davos, but Pico has an unmistakable charm all its own.
Surrounding the Pico base area is a cluster of nicely appointed condominiums, and a full service fitness club. Our two-bedroom unit has a convenient kitchen, and a fireplace and deck overlooking the slopes to keep my husband entertained, where he can oversee our kids' impromptu sledding party while tending the fire.
Pico is a short 4-mile drive to Killington Ski Resort. There are plans to interconnect the abutting ski areas. Powdr Corp owns Killington Pico along with Mt Bachelor in Oregon, Eldora and Copper in Colorado. For now, you can drive or take the shuttle to Killington's slopes, to any of the fabulous eateries or to frolic in the notorious nightlife along the Mountain Access Road.
We opted for a quiet evening in, with plans to be on Killington's first gondola at 8 a.m., Sunday morning.
We were far from alone at the opening of the gondola Sunday morning. For two resorts so geographically close, not to mention sharing the same corporate logo, Killington and Pico are "polar" opposites.
Pico Mountain Stats:
57 Trails, 2 Peaks, 7 Lifts
Vertical Drop: 1,967'
Skiable Terrain: 468 acres
Founded in 1937
Our ski review of Pico Mountain