Lone Mountain Ranch
Visiting Big Sky Resort in Montana, you must include Lone Mountain Ranch. This authentic dude ranch is just 6 miles down the mountain road from the ski resort. It's everything you expect from a western ranch – horses, log cabins, expansive land and wilderness, and more – like the accoutrements of and gorgeous groomed cross-country skiing, fine dining and a cozy après ski bar.
Passing under the Ranch's big timber signposts, you are transported to cowboy country, to another time, of taming the wild, 140 acres.
The Orvis Nordic and Fly Fishing Lodge was our first stop, next to the horse corral. This classic timber lodge is home to the Ranch's adventure and sporting pursuits, which for us in winter was cross-country skiing. Perched on wood benches and flannel pillows by the woodstove in the Outdoor Shop, my daughter and I were swiftly outfitted with Nordic boots, skis and poles. Our guide Laurie offered us a few tips, we're alpine skiers at heart – rarely do we "skiing ski".
Soon we were gliding on freshly groomed snow, past the horses, into the wilderness, over a wood bridge, passing cozy log cabins, towering lodge pole pines and aspen trees, into wide open meadows.
Getting the groove of Nordic skiing, my daughter Aspen and I were soon skiing in the tracks, emulating Laurie's quick style. We even skated on Beaver Slide Trail across fields, with fantastic views of Lone Mountain – Big Sky's iconic peak, over streams, up and down hills – with reasonable grace.
With Lone Mountain Ranch's network of 85-kilometers of maintained trails, you could explore and ski for hour, days, you can even venture as far as Big Sky's lower mountain ski lifts at Lone Moose, or down to the Golf Course at the Meadows. Trails are well-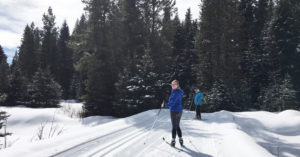 marked, and exceptionally well-groomed, with very few skiers – no wonder Lone Mountain Ranch was awarded #1 Nordic Ski Resort in North America by Cross Country Skier magazine. We encountered three other skiers during our entire tour, they'd just seen a Moose. On our glide back toward the Lodge, we saw evidence of Elk, who sneak the horses hay from their pasture. Seems everyone finds their joy here at The Ranch.
To explore more of The Ranch, we traded in our Nordic boots, and said hello to the horses who agreed to a "selfie" – they were otherwise resting up for their big night – pulling passengers on a sleigh to a remote lodge for dinner by gaslight.
The centerpiece of The Ranch property is the grand Lodge, where we were greeted by Elk, Bison, Moose and Big Horn Sheep – mounted local trophies. This magnificent lodge with a huge stone fireplace is the rustic elegant setting for The Horn and Cantle Restaurant. We vowed to return for dinner later that evening.
Lone Mountain Ranch is the real deal, a certified Dude Ranch (dudes don't just whip this title around), a National Geographic lodge, and a recognized Orvis Hunt & Fishing Lodge. You can also snowshoe, sled and winter fly fish. Lone Mountain Ranch has access to both The Madison and Galatian Rivers – yes, of "A River Runs Through It" fame featuring Brad Pitt.
For après-XC-ski, its not just alpine après ski, we saddled up to The Saloon – a warm inviting bar inside Lone Mountain Ranch's dining lodge, intentionally early for our dinner reservation to enjoy
cocktail libations. Seated at the beautiful copper bar, our bartender suggested his signature Saw Mill – made of his own pine-infused vodka, with eggs whites. Aspen loved it, while I sipped a buttery chardonnay overlooking the copper fireplace.  A musician played her guitar and sang softly by the window, framed by swaying aspen trees shimmering with snow. Out on the deck, sleigh ride dinner guests gathered as the horses trotted up to scoop them up for the prime rib candlelit cabin adventure.
Our dining event in The Horn and Cantle was extraordinary too, by the fireplace, with furry animals on the timber frame walls, and food from the wild side – elk meatballs, duck cassoulet, and Montana trout. Everything was delicious, perfectly presented, homemade and hearty. Even the warm bread with honey butter, simple but so satisfying. Convincing ourselves that our Nordic ski tour had burned countless calories, we indulged in the Cowboy Cookie Pie, served in a cast-iron skillet with warm gooey chocolate chips, and melty vanilla cream. Its a top dining spot at Big Sky.
What a perfect winter day in Montana, feeling at home on the ranch. You must treat yourself to a day's adventure, Nordic skiing, and dining at Lone Mountain.
Our only regret, we didn't stay overnight in one of the delightful log cabins… next time dude, we're staying at this dude ranch!
Big Sky Montana Ski Reviews:
Big Sky Family Ski Trip
Big Sky Best Dining and Apres Ski
Big Sky and Moonlight Videos
Big Sky's Moonlight Basin
Yellowstone Club