Banff – Norquay – Lake Louise – Sunshine
"The purpose of your visit?" the Customs Official asks us upon our arrival in Canada. "Pleasure!" "Skiing!" Greg and I each eagerly volunteer.
"I go to the mountains myself in the summer, just beautiful," he responds. Different strokes, I think to myself. We are here for six days of skiing spanning three resorts, Lake Louise, Sunshine, Norquay, over 7,500 lift serviced acres. What could be better?
We are skiing Banff National Park, Canada's first park. Entry to the park is lined with warnings of crossing elk, signs for big mountain sheep, 12-foot fences and wildlife bridges to keep the animals off the Trans-Canada 1. My expectations were peaked as the mountains ahead.
A dozen mountain goats come into view (right on cue), grazing on the roadside. We did the touristy thing, pulling over to snap photos. Little did we know how commonplace this scenario would become, many photos and several species later?
Buffalo Mountain Lodge is our first nights' lodging. The brochure stated rustic elegance, I had visions of glorified camp. How pleased I was to discover our fireplace room had heated floors, a fluffy down duvet covered king bed and a balcony with hand-hewn pine chairs looking out at the magnificent mountains. Relaxing in the claw foot tub in our grand scale bathroom or a walk to the resorts oversized heated hot tub?! After soaking away our day of travel, we dine at Buffalo Lodge's gourmet eatery where the menu reads like a wildlife game preserve. It seemed hypocritical feasting on the very critters that would appear in our scrapbook. Since it was day one, and we had already spotted herds of elk, we determined there was no apparent shortage and ordered the native beef.
Sipping good Canadian beer, recommended by our chatty pleasant server, she suggests we return in the summer. We came to ski, and Banff Norquay was our first alpine stop, just 7-switchbacks from the quaint town of Banff. This is the oldest ski area in Western Canada, dating back to 1926. Norquay was the first ski area to receive black diamond trail designation, for the steep Lone Pine Trail. In 1948, the North American Trail was proclaimed the steepest trail on the continent.
Norquay now has 3 quads, night skiing and terrain parks. While it does not have the big name of Lake Louise and Sunshine, it also does not have the lift lines or crowds so this is the place to be on weekends, when the alpine population of Calgary hits the nearby slopes.
With many  1,200' vertical laps on Mystic high-speed quad, we headed for the moguled steeps of the notorious Lone Pine trail reached by an intrepid double chair. By noon, we had carved plenty of turns on what felt like our private ski mountain.
The Cascade Lodge at Norquay is a magnificent post and beam lodge. The Buffalo Burger served in the window-lined Lone Pine Pub was delicious.
An Ice Canyon Walk apres ski brought more Banff wildlife and wilderness. Outfitted with strap on cleats and our most knowledgeable guide Kristi, we walked into Johnston Canyon to see gorgeous frozen waterfalls and plenty of wildlife tracks along the way. Our guide clued us in on the healing characteristics of sphagnum moss, and the quirky mating habits of many species.
Ice makes for a silly human show. People in sneakers and high-heeled boots (those who did not splurge on the guided tour complete with ice cleats) slipped, slid and polished the ice-covered catwalk with their hindquarters. It was like a funniest home video winter episode. Ah, the great outdoors. I resisted the temptation to tell these ill-prepared hikers that they should "come back in the summer."
White glove treatment commenced our night, dining at Rimrock Resort. The elegant, multi-story hotel is built into the mountainside overlooking the alpine town and the spectacular mountains. I could stay here. In fact, the elegantly draped picture windows of the lobby bar are right out of my dream, where we enjoyed a fireside après ski drink, taking in the view from an oversized wingback chair, followed by artfully prepared caribou and macadamia-encrusted lamb. World-class wonderful – in winter, not summer!
Our second day of skiing, Lake Louise is an easy 45 minutes from Banff , the largest ski area in Canada with 4,200 acres and 3,365' vertical of skiing.
Lake Louise is, in a word, expansive. With four mountain faces, and six bowls on the backside, there is enough terrain to keep your boards humming for days. The scenery Lake Louise offers of glacially cut dolomite summits that jut sharply into the sky in every direction is – unparalleled.
Riding the swift Gondola, I was craving the freshly groomed cruisers below. Our mountain guide had other ideas since my husband insisted that we were experts and did not want "the usual tour."
At Top of The World Express quad, we reached 8,300' to access the back bowls. The booms detonated by patrollers on avalanche duty cut the thin mountain air. Guide Dave informed us that one more lift would get us to the "real summit."
Up the thigh burning Summit Platter, a precarious poma that warrants double black diamond status for its 45% climb, at last, we were at the pinnacle, with hardly time to catch our breath as Dave shot down the steep Whitehorn Bowl.
We skied bowl after bowl, mogul fields, glades, and at last Dave succumbed to a few relaxing groomed runs on the frontside. By lunch, Greg announced we had logged 17,000 vertical feet. I caught a nod of approval from our guide Dave over the buffet line at the Whiskey Jack base lodge, located next to the immense Lodge of the Ten Peaks.
We skied from 9am to 9pm that day. At 4:30, instead of heading to the parking lot, we skied to the mid-mountain Whitehorn Lodge for an après ski party and torchlight ski down to dinner.
As the band played, and the beer flowed, we danced in our ski togs. Outside the lively lodge, darkness settled on the mountain, with the exception of a few groomers combing their nightly paths. I like my après ski toddy, and I have night skied a few times, but putting on the boards after drinking and dancing can be dangerous. hankfully the selected trail was a mellow beginner run, groomed with guides leading and tailing our crazy crew.
Our palatial lodging while skiing Lake Louise was the famous Château Lake Louise. Just 10 minutes from the ski area, this monumental 1890 hotel was built by Canadian Railroad mogul Cornelius Van Horne, just two years after his Banff Springs Hotel masterpiece.
Our Bellman opened our drapes to stunning Lake and Victoria Glacier, he explained that Lake Louise is the most photographed lake in the world. "The color in the summer is the most wonderful turquoise, because it is glacially fed. You must come back then to see it."
In winter, the Chateau's window-lined dining rooms, bars and lounges, and 488-rooms all give way to postcard caliber views. Skaters, snowshoers, and horse-drawn sleighs glide over the famous Lake, surrounded by jagged snow-covered mountains. We dined on fondue at the Hotel's popular Walliser Stube, Swiss décor and menu  befitting this grand alpine setting.
Two luxurious days at Château Lake Louise, spent skiing and returning to our Cahteau balcony and chocolate covered strawberries from the turndown maid each evening, I reluctantly checked out. I told the bellman, "I will be back" (in the winter – but I did not get into that predictable banter). Our scenic 45-minute drive back to Banff was our third and final ski area.
Our last days brought Sunshine, literally and figuratively. We boarded the Sunshine Village Gondola – the only way to get to the 3,500-acre ski area from the base parking of this unique mountain resort.
Off the gondola, we headed straight for Goat's Eye. This upper end terrain gets rave reviews for its steep chutes. Riding the speedy quad, we knocked off plenty of runs before moving on to Sunshine's other ski mountains, Lookout and Standish.
Like a 3-d poster, majestic peaks surrounded us. Mount Assiniboine- "the Matterhorn of the Rockies"- at 11,870', stands out among the hundreds of other craggy summits.
We cross-country skied, Alberta to British Columbia, while riding up the Continental Divide Quad. We hiked the extra 50 feet to the 8,954' top of Delirium Dive. This extreme skiers' chute re-opened in 1998 after being closed for 20 years. Avalanche beacons and shovels are a must now.
Looking down the Dive's incredibly steep, narrow chute made my knees wobble. No adrenaline run for us, we were shut out of "the Dive" this trip. There was not enough snow to ski the precipitous terrain. Cliff bands and rocks were too many to avoid this season, as this region was experiencing their least snow in 30 years.
Sunshine receives up to 33′ of snow, the most in this region due to the gondola-accessed elevation of the ski area being primarily above 7,000'.
We skied all the wide-open cruisers and even a few glade runs winding off the 8,954' Lookout Mountain's two quads. Mt. Standish offers sweet chutes and steeps tucked between groomed runs and a terrain park.
Later we skied the Wa-wa Chair, (as a ski journalist it is my duty to ski it all). Wa wa is sunny if not very steep terrain, call it mellow mountain.
Eagle's Nest was our sunny slope-view lunch spot, part of the Sunshine Mountain Lodge. This is the only on-slope lodging within Banff National Park. The 84 rooms are environmentally art deco unique. How cool to stay up on the mountain, no cars, and the resort village all to yourself as the majority of skiers depart nightly.
Skiing out the meandering Banff Ave Trail in the shadows of the gondola line, we legitimately logged Sunshine's 3,514′ vertical.
Banff Springs Hotel was our final lodging property, elder sister to the Chateau by two years. This world-famous flagship hotel to the Canadian Pacific Hotel empire (part of the prestigious Fairmont Hotel family), was built in 1888 as an oasis of luxury in the Canadian wild.
The medieval style hotel's eccentric staircases and glorious ballrooms are a maze, you could get lost – in another era. I expect to see ladies in ball gowns waltzing to an orchestra as I pass through the stone archways lined with rich fabric tapestries. Instead I find a Japanese tour group, snapping photos.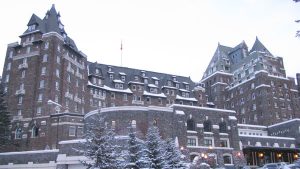 The Banff Springs "Solace Spa" offers every treatment imaginable, and a palatial mineral bath atrium complimented by waterfalls. You can visit the nearby 'open to the public' Banff hot springs – but I found the elegant and pampering atmosphere of the Solace mineral baths far more soothing than bathing with scads of other tourists.
Dining to the strings of a harpist in the  elegant "Banffshire" epicurean dining room was the crown to our jewel day. Jacket is required, or in our case supplied by the Maitre'd, as Greg's sportcoat did not make it into the ski bag.
Downtown Banff is just minutes down the street, worth an afternoon of exploring, browsing shops, enticing galleries.
Canada Place and the Natural History Museum have free exhibits, offering insight to the history of the Park and a glimpse of legendary Big Foot "Saskwatch" himself.
During our week in the Canadian Rockies, we skied over one hundred fifty thousand feet of dramatic vertical, according to Greg's altimeter. We dined like Kings on delicious indigenous cuisine (ok wild game). Magnificent lodging properties all made my personal top ten. The scenery, those spectacular snow covered Rockies, was the big winner.
Four million people visit Banff National Park annually. 75% come to the Park in the summer, when it is reportedly very beautiful. Here's a wild and crazy idea for you… Go in the winter – its less crowded, the views are just as stunning, and the skiing – awesome!