Top Women's Skis – 2020
Top Women's Skis for 2020
We love to test ladies skis, and love to find that perfect gear that takes us from first chair – crushing cord or charging through fluffy pow, to fun quick turns, to end of the day with serious staying power and stability in crud or skied up snow, and  strong edge grip in hard pack (or ice). We also love that women's skis are finally custom designed, and tested by females, not just pink and lighter and shorter than traditional men's skis of the past. Here are a few of our favorite skis, mind you we haven't had the chance to ski 'me all.
Women's Best All Mountain Skis – when you can only bring one ski !
Volkl Secret 92 is a winning women's ski – no longer a "secret". Modified after the popular men's Volkl Mantra M5, The Secret is fast, fun, edgy, if you want more float look at the All Mountain Secret 96, or the Big Mountain Secret 102 ski. We're totally sharing the Secret with best ski gal pals.
Head Kore 93 W was modeled after Head's wildly popular Wild Joy ski series. The KORE is fast and stable on hard snow, loves to carve smooth arcs, and has just the right amount of snap. Head uses a top sheet of polyester fleece and a lightwood patented "core" of graphene (a thin carbon layer).

Head Kore 99W  and the Head Kore 105W are the big sister all mountain ski that are boss in bigger snow.
Rossignol Soul 7 HD W is a lover of soft snow, just like me. At 104mm its floaty and forgiving, but still responsive enough on firm snow and at moderate speeds. The Soul 7 is an ideal one-quiver ski for advanced gals who want to cruise all over the mountain with confidence.
Blizzard Black Pearl 98 is a top selling women's ski for good reason. This Austrian "slaydies" skis is snappy and fast, but smooth and silky in less-than perfect snow. While the Pearl is not a big pow skis, its versatile enough for gals that occasionally explore off-piste.
Nordica's Santa Ana 93 is not just another pretty girl's ski, though shout out to the graphic artist, these wild sounding skis are super fun to ski in all conditions, stable, quick. The sister ski to the award winning men's Nordica Enforcer has eco-friendly balsa wood keeping it light but strong ladies. Bring on those Santa Ana storms, also available in the Santa Ana 100 for big snow.
Top Women's Front Side Skis
For ladies that like their cord, their packed pow, carving beautiful slalom turns on their favorite ski trails, laps in bounds, on the ball.

Blizzard Black Pearl 88 is our perennial favorite, a perfect mid-sized ski that's versatile for varying front side conditions. Your Pearls are smooth but substantial, ready for groomed, powder or mixed snow. We have loved the Black Pearl at first sight when introduced in 2012. Girls love their pearls, ideal for advance intermediate looking to improve.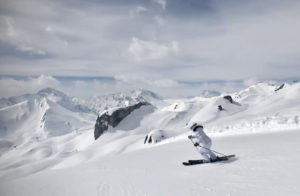 Rossignol Temptation 88 HD continues to be a fave, lightweight but quick underfoot and responsive, it's a great ladies front side ski for confident women.
Nordica Santa Ana 88 is beautiful and blue, light weight but substantial enough with its vibration damping. It's a quick fun ladies ski that holds well under carve, but you can smear or bend it in the bumps. A perfect advanced intermediate front side ski for gals.
Head Total Joy  85 has much of the Head KORE technology but its more playful, lighter and snappy – loves cord in the morn if that's your lady preference.
Women's Big Powder Ski
This year we did not test or rate big fat pow skis, we're kind of over that 110 spatula trend, preferring more substance and rip in our chick sticks.
Top Women's Skis for 2021- 2022
Top Men's Skis for 2021-2022
Top Women's Skis for 2021-2022
See more Ski Reviews in our Gear Guide
How to Pack for a Ski Trip
Ski Like A Girl Hoodies, T-shirts and Swag we love!