Snowbird Utah
Snowbird is unabashedly challenging terrain, and typically enjoys copious quantities of dry fluffy Utah snow, over 500″ annually of the patented "greatest snow on earth."
Snowbird is a great place to spend a week, a great resort for families with kids that have conguered blue squares and are ready for the next step. Once you arrive up the Little Cottonwood Canyon road, 30-minutes from Salt Lake City – you don't want to leave.
Snowbird's terrain off the 11,000′ Hidden Peak summit Tram is amazing, whether you ski the steep Cirque, over to wide-open Mineral Basin, or down 2.5 mile long Chip's Run to the base. There's also Little Cloud and Gad Valley chairs with groomed trails, glades, and steeper chutes and bowl skiing.
Snowbird has a very long season, greatest in Utah from November often into June,  due to its 500 inches of annual snow. Its high elevation (11,000′) and dry climate in the Wasatch semi-arid region. It often dumps here a foot at time. Powder days are pretty frequent, thought the locals still get giddy on a fresh snow day lining up for first Tram with a feverish pace – call it powder panic.
Snowbird's Tram ride is a head rush; the 125-passenger cattle car in the sky whisks you up 2,900' vertical feet in six minutes. This Tram ride (one red, one blue car) is a panic for anyone acrophobic wtih its long expanses, and teh ocassional swing between towers. As you follow the crush off the Tramcar, you are at the 11,000-foot summit of Hidden Peak where the air is thin, the view is fantastic, the new Summit Lodge is posh, and the downhill options are bounteous.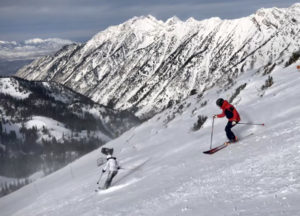 Snowbird's Chip's Run is a staple – a 2.5-mile warm up run tradition to the bottom, ideal for intermediates too. Beating your tram to the base is a rite of passage, then ride back up to the summit to taste another side of the Snowbird snow cone.
Snowbird has a great learn to ski and snowboard camp for kids – Snowbird Kids, and lessons for adults. Big Emma is a huge perfectly pitched novice run, Chickadee is another beginner paradise, otherwise Snowbird is steeper, advanced and expert only.
Snowbird also has 6 high speed quads, like Peruvian at 2,500′ vertical. Its big mountain terrain with big speedy lifts, and a cool tunnel that pokes through the mountain connecting Snowbird's frontside to the backside – Mineral Basin and Mt Baldy- which connects to Alta ski area – you can border crs with an interconnected ski licket, but not with a snowboard – old school Alta does not allow one-plankers. Its reminiscent of skiing from Zermatt, Switzerland to Cervinia, Italy. You are surrounded by incredible alpine peaks, but thankfully no language barriers or snooty Europeans. The high altitude ticket checker gives you a nod (and a trail map if you ask), as you enter all new territory – the classic "skiers only" Alta.
Summit Lodge at Snowbird is THE place to lunch. This massize glass steel structure, that took decades to permit and build, is perched steps from the Tram unload, on  11,000′ (not so hidden) Hidden Peak – all grand windows and panoramic views! Take your lunch tray upstairs for the best snowbird's eye view of peaks for miles, even the great Salt Lake on a bluebird day from Utah's highest restaurant.
Snowbird's après ski is ultra laidback, like most Utahans you will encounter. The focus here is on skiing, not glitz, no glamour, no fondue or fancy outfits or haute cuisine. Just a brew with ski cohorts at Tram Bar or if its sunny – on Skiers Plaza – the three floor concrete Village Center where the tram docks, ski shops, a few eateries and General Gritts market is located. Snowbird's construction in the 70's was intentionally uitlitarian, avalanche-proof, not to resemble typical clusters of chalets and condos at most resorts.
The Cliff Lodge at Snowbird is the place to stay of the four big lodging properties. This 10-story concrete structure is 1971 original, avi-proof in its bunker design, yet surprisingly posh inside with 350 rooms – four diamond, with mezzanine ski lockers, a towering glass Atrium and a decadent rooftop Cliff Spa with outdoor pool and jacuzzi, and every treament imaginable. Another slopeside outdoor pool and hot tubs for families overlooks the beginner Chicadee terrain – often in the afternoon sun.
Aerie at Cliff Lodge is the place for apres ski cocktails. This top floor scenic bar, lounge and expansive dining room has high elevation views, a great menu, and often live music in the evening. Ask about happy hour small plate special- this is quirky Utah so drink specials are prohibited. SeventyOne is teh retro eatery by teh sloeps at Cliff Lodge, with vintage  1971 decor and American comfort food inspired menu – tributing Snowbird's  70's origins. Other lodging at Snowbird includes the Iron Blossom, The Inn at Snowbird, and Cliff Condos.
Snowbird is currently majority owned by Ian Cummings, of Powder Resorts collection – think Mt Bachelor, Killington, Copper, Woodward, on the IKON pass. Snowbird's founder Dick Bass, the Bird's original visionary, passed away in 2015.
Located in the Wasatch National Forest in Little Cottonwood Canyon, Snowbird is a great snowy destination for a week of family skiing, easy to reach just 29 mile from Salt Lake City Airport (a brand new SLC airport will debut 2022). A Snowbird ski trip with the interconnected lift ticket to ski Alta, you won't run out of terrain, but you might run out of steam.
Snowbird Stats:
140 trails, 14 lifts including a Base to Summit Tram
Vertical Drop 3,240'
Summit Elevation 11,000'
Skiable Acres 2,500' (4,700 with interconnected Alta)
Snowbird Annual Snowfall: 500″
Snowbird Opened in 1971
Utah Ski Images
Utah Ski Videos