Mountain Dining on Ski Vacations
Here are the best ski in ski out lunch spots and après ski dining we have discovered. We love a beautiful on-mountain restaurant for lunch with a view or aprés ski! Our ski foodie adventure continues so let us know any cool cuisine and super ski eats.
Also see our Top Apres Ski Bars in the World and Top New England Après Ski.
Best Mountain Eats in the East
Okemo's 43 North, Robin's Roost or Coleman Brook Tavern are proof that a ski resort culinary department, versus food & bev, is a departure from standard fare. Okemo's dining is far tastier, from duck cassoulet at 43 North at Solitude, to elevated shrimp & grits or BBQ & bisquits at the Summit Robin's Roost, to the Tap House at Jackson Gore.
Sunday River's Mountain Room at Peak Lodge reached by Chondola is Chef Harding Lee Smith of Portland Grill Room and Corner Room beautiful bar and bistor. Small plates, charcuterie, pate, toasts and cheese plus Maine craft beers and wine with a view of the slopes. The Mountain Room offers a European style with artisanal cheeses, salads and sandwiches. As for the perfect après ski, we love Foggy Goggle for its slope view and live music. Sunday River's Peak Dining at the North Peak Lodge via the Chondola on special evenings is also a treat. Camp at the Grand Summit Hotel has a cozy Maine comfort food menu and log cabin inspired atmosphere.
Sugarloaf's The Bag is THE placein the Loaf's village to satisfy hungry skiers just steps from the ski lifts – serving up hearty soups, sandwiches and super juicy Bag burgers at pocket friendly prices.
Stowe Mountain's Lodge at Spruce Peak's Hourglass is an après ski bar with a swank feel in heart of the sophisticated lodge, but you can order kid-friendly flatbreads and the best Vermont Cheeseburger reasonably. Chef's Table at Solstice in the The Lodge is exclusive and elevated, with wine-pairings and amazing Chef creations from your high top peaking into the dynamic kitchen. At the top of the Stowe Gondola, The Cliff House offers outstanding views and great ski lunches – like Vermont cheese fondue.
Killington's Peak Lodge was completely replaced in 2014 – with local Vermont sourced food served at over 4,000 in a cafe style setting with couches, free WiFi and of course Wonderful views.
Sugarbush's Rumble Restaurant is located in a circular post and beam lodge slopeside at Lincoln Peak. The Chef has received accolades for his Vermont ingredients in interesting dishes, don't worry there's a kids menu too.
Verde in Stratton Village is excellent with authentic Vermont ingredients. Their après ski fondue is fabulous paired with wine from the extensive collection.
Bretton Woods' Latitude 44 serves up soup, burgers and superb views of Mount Washington.With a new Sky Way gondola reaching Bretton Woods' scenic summit, look for plans for a new lodge next season.
Best Ski Lunches Out West

Alpino Vino at Telluride is the highest restaurant in the continent, at 11,966', this mountain chalet at Telluride is reached from the Gold Hill Express for a ski in lunch, or takes a snowcat for a five-course candlelight dinner with wine-pairing.
Cloud 9 at Aspen Highlands is a delightful mountain chalet at 10,400′ with views of the Maroon Bells, raclette and fondue. This place pops serious cork of Veuve Cliquot in the afternoon.
Uley's Cabin at Crested Butte is an uber cozy mountain cabin with elegant culinary of charcuterie and gourmet cheese plates, elk and native cuisine with an international wine and beer selection. Outside Uley's Ice Bar is very
"cool". Evenings arrive at Uley's via a sleigh ride for a gourmet candle light dinner.
Vail's 10th Mountain Lodge is magnificent, and perfectly positioned at mid-Vail, reached by Gondi One. Lunch is pricey here, but excellent, along with the boot room and slippers – lovely, and the homage to the 10th Mountain Division troops is awesome! 
Keystone's Alpenglow Stube at 11,444' is amazing, this ski in ski out restaurant at Summit House offers elegant cuisine, an a la carte menu, featuring local game, fish, fowl – prepared in an open concept kitchen. Ask for a table by the big fireplace, and check your ski boots with the hostess for cozy slippers. You may feel more feel like you are in The Alps, than Colorado's Rocky Mountains. From Keystone's River Run Gondola its a short ski from atop North Peak (or a brief walk for pedestrians connecting on the Outpost Gondola).
At Sun Valley, dine at The Round House as skiers did back in 1939. This mid mountain lodge serves traditional Austrian fare of fondue by the fire, while an accordion player entertains with classic mountain ski songs. This is a Sun Valley must, now with its own Gondola.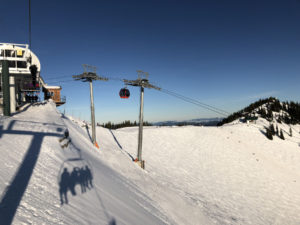 Summit House at Crystal Mountain in Washington is spectacular. At the summit, as its name implies, this beautiful lodge offers upscale sit-down dining  with a view of the Cascades and towering Mt Rainier at 14,410′. An extensive menu featuring elk, fish tacos and French Croque Monsieur, and so much more, is served in a relaxed airy mountain-themed lodge. Washington wines and beers complement the fantastic cuisine and setting. Skiers will think they're in heaven, pretty close at 6,782′. Reserve ahead, relax, and enjoy the view. Non-skiers, or beginners, can ride the gondola to join their ski party for lunch and download after dining.
Collin's Grill at Watson's Shelter at Alta, Utah is a surprisingly elegant mid-mountain restaurant with linen table cloths and creative courses, on the third floor- many ski boot steps- but worth it! Try the local trout, and conclude with the Heart of Darkness Chocolate dessert. A great view of the slopes and skiers passing by on the Collins quad will keep you connected with your Alta ego.
Steamboat Colorado's spectacular on mountain dining at Hazie's is lovely for lunch or dinner atop the gondola, while après ski at Slopeside in Gondola Village is perfect since you don't have to ski after drinks.
Lookout  Cabin is a mountaintop chalet at Park City's vast resort – located mid-station of the Orange Bubble Express from Canyons Village with table service and a diverse menu for hungry downhillers. The chefs' prepare your chili, oysters, fondue or ribs in an open kitchen but the stunning view of the Wasatch Mountains is the real attention grabber. The Viking Yurt is a very special experience dining in a cozy tent at the top of Park City's Crescent Express. Evenings, diners are transported via sleigh for a six-course treat.
Couloir at Jackson Hole in Wyoming is an extraordinary setting at 9,095′. Take the gondola from Teton Village to this spectacular lunch spot with views of Teton Valley and the legendary namesake run – Corbet's Couloir off Jackson's 4,139′ vertical Tram. Enjoy duck, elk and bison before heading back out for more big game on the ski slopes.
Burgers and Bourbon at Deer Valley's Montage is a luxury lunch with slope views and table service. Royal Street Café located upstairs in Deer Valley's mid-mountain Silver Lake Lodge is also a table-service culinary café. The Chipotle BBQ Burger is to die for, much like Deer Valley on a powder day.
The Gunbarrel at Heavenly has location, location, location at the top of the Heavenly Tram. The fare and friendly service are a bonus, but its all about the Heavenly views of Lake Tahoe.
Canada Ski Restaurants
Eagles' Eye at Kicking Horse is Canada's highest elevation restaurant,  at 7,705′, and the most scenic ski lunch ever with vewis of the Purcells. Elk burgers or Salmon and a panorama await with great table service, reached by the swift base to summit gondola – family members can download after lunch if they prefer in lieu of skiing Kicking Horse's long (kick-your-butt) descent.
Whistler Blackcomb is legendary for its vast terrain and big vertical, and several stunning on mountain lodges -17 ski in ski out restaurants! The chicest place for a ski in lunch is Christine's at Blackcomb in the Rendezvous Lodge at 6,000'. The picturesque corner of this mod mountain lodge is a culinary treat, with elegant table service, an extensive cocktail, beer and wine list, and extraordinary food from ahi tuna to upscale fried chicken. You may just want ot stay and unbuckle your ski boots, but Saudain's Couloir is in view for a steep post-lunch calorie-burning adventure. Over at Whistler, The European style Umbrella bar at The Round House is another gem, featuring a panorama and patio to die for on a sunny day, with heat lamps and a protected bar for the not-so-perfect days.
Remember skiing burns a bunch of calories so indulge your après ski appetite while you share tales from the trails with your family. Top Apres Ski Places and Best Apres Ski In New England