Crystal Skiing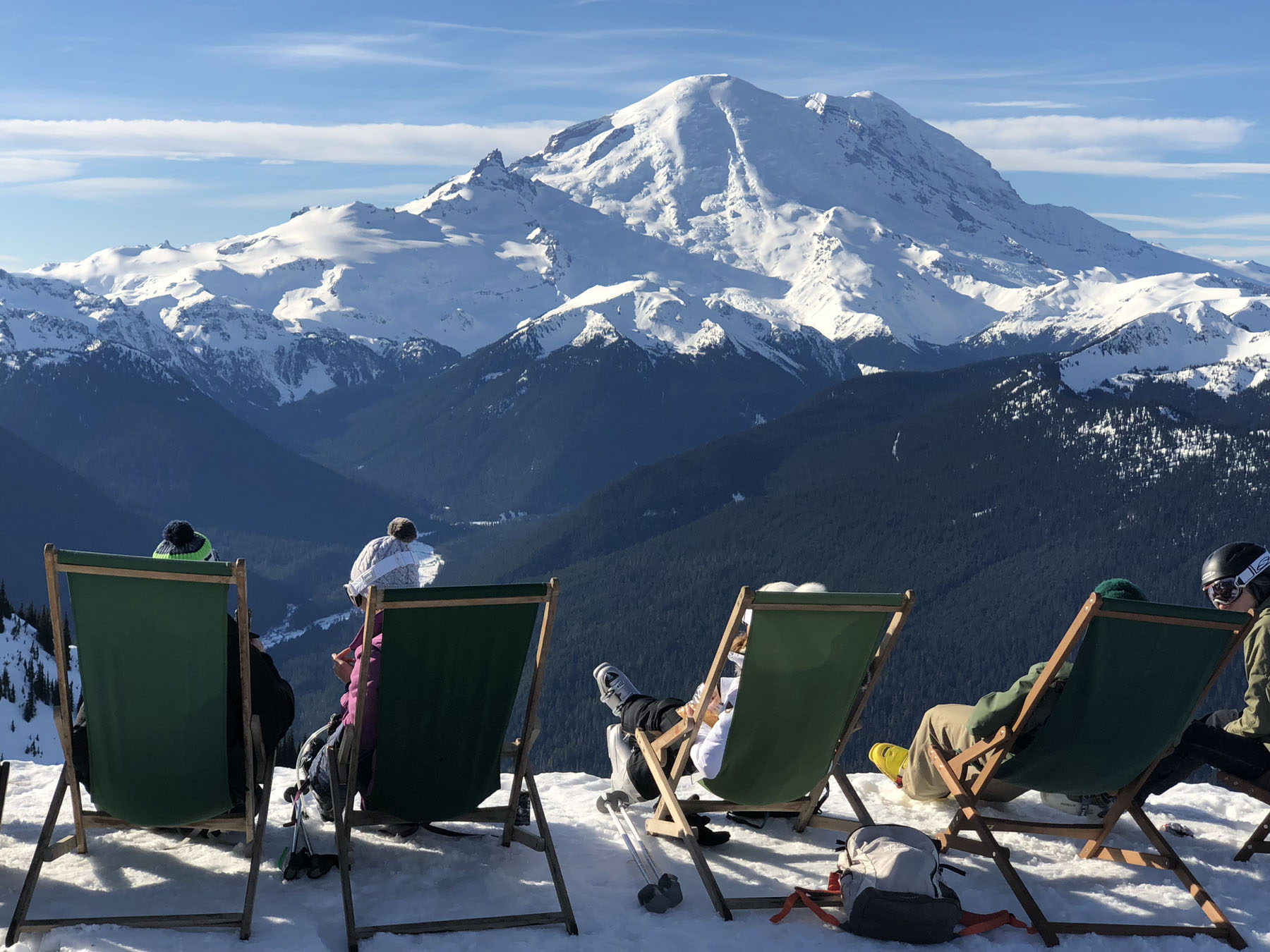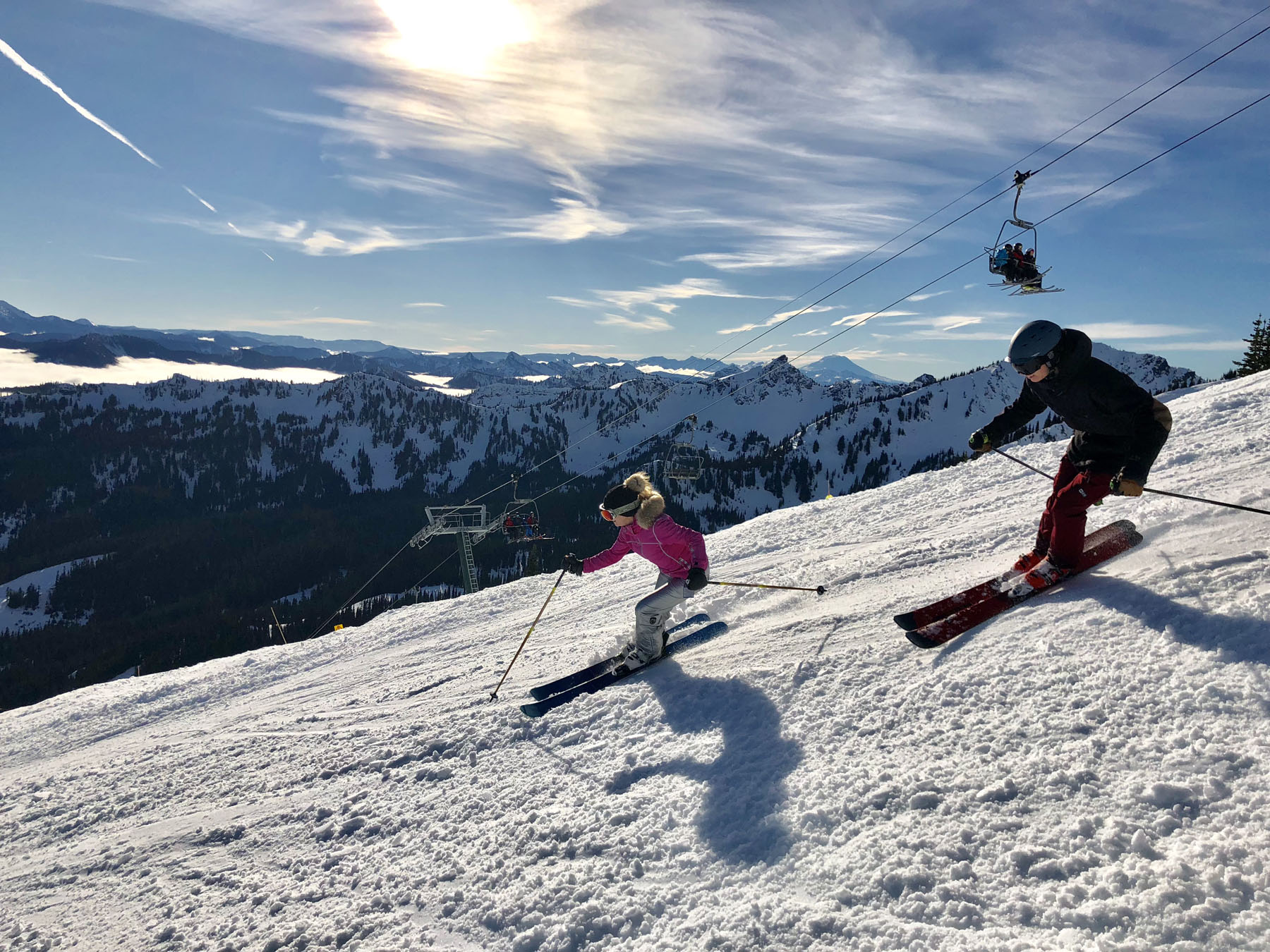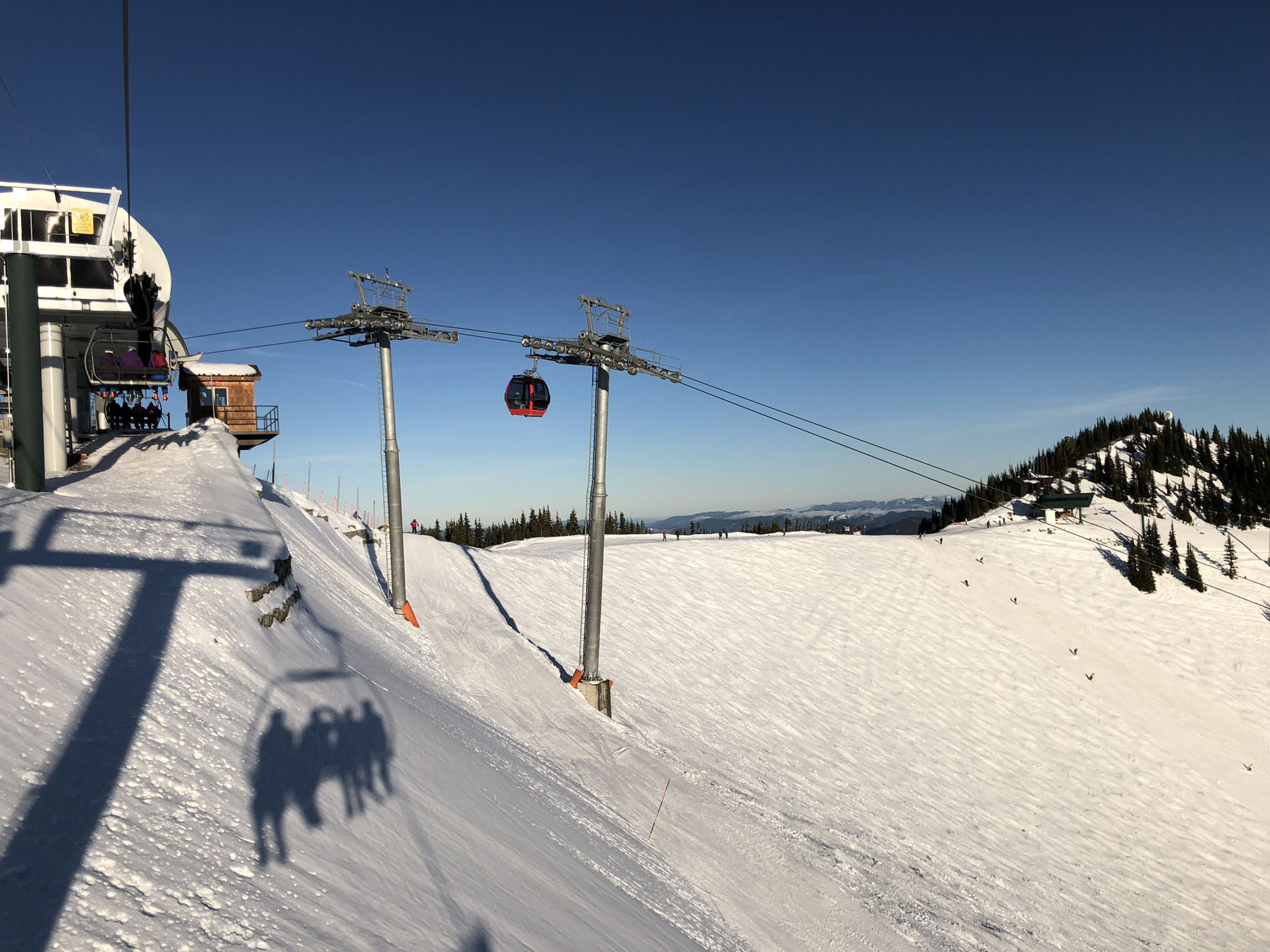 Crystal Mountain is Washington's largest and highest lift serviced ski resort. What's truly remarkable is the view of Mt. Rainier, the towering 14,410' peak, from the ski slopes of Crystal on a crystal clear day. It's like skiing Zermatt with the Matterhorn looming large over your ski day.
Crystal Mountain Resort is less than two hours from Seattle, a pretty drive once you've entered the lush fir forest. For good reason, Crystal is popular with Seattlites and powder hounds.
Crystal Mountain Resort is now owned by Alterra, Aspen's conglomerate of 36 ski resorts, part of the IKON pass.
A big mountain, Crystal offers ski terrain for everyone. For families, the beautifuly groomed, gently-pitched Quicksilver and Chinook areas from the base are served by a quad and six-seater respectively. Crystal's best lift is the base to summit gondola, the Mt Rainier Gondola to 6,872'. Crystal has plenty of groomed runs, over 50, plus over 1,000 acres of backcountry style skiing and riding in the remote Northway area that's completely natural, steep, earthy, old-school ski-it-if-you-can terrain, but still technically inbounds, patrolled, and best of all – lift served by a rather modern but methodical fixed grip double chair.
Favorite skiing at Crystal for me was the rolly fun runs off the Forest Queen Six Pack, the Rainier Express Quad (locals call it Rex) , and the upper mountain Green Valley area. What's cool about Crystal is you can typically ski a groomer or an au naturelle run off each lift, verstaility for families skiing together.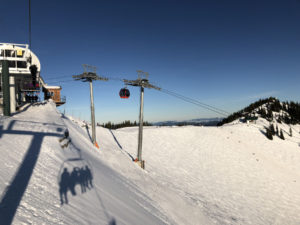 Crystal's culinary scene is top notch, make a reservation at the Summit House, at – you guessed it – the summit! Its upscale sit-down mountaintop dining with a surprisingly extensive menu, and amazing views of the ski terrain, the stunning Cascade Range and Mt Rainier. Whether your palate craves French Croque Monsieur, Pacific fish tacos, local elk and bison, or a healthy quinoa salad bowl, you've got that, , prices $12-$38, plus fantastic Washington beer, wine and cocktails, served with a panorama. Non-skiers, or beginners, can ride the gondola to join their ski party for lunch and download after dining. Summit Lodge makes our Best On Mountain Restaurant List for Western skiing.
Finale run at Crystal, to gain the full 3,100' vertical, ski Kelly's Gap Run that unwinds your ski day on twists and turns all the way to the base.
Après ski at Crystal, the Bullwheel Bar and the outdoor patio at the base lodge often rock with live music. The Snorting Elk in the Alpine Inn is oh-so-authentic with vintage gear, memorabilia, and a rustic but cozy atmosphere. It seems plucked out of Kitzbühel Austria, with a fun party atmosphere, often live music and of course – the shot ski.
Lodging at Crystal Mountain Resort is rather humble, alpine, in neat old Austrian chalets. These throwback hotels, the Alpine Inn, The Quicksilver Lodge and The Village Inn, are steps to the ski slopes with simple 60-70s décor, clean convenient rooms. You might feel like you stepped into a vintage Austrian ski movie set, its cool, cozy and convivial with families of skiers hanging out on couches playing games. Silver Skis Chalet offers condo style lodging for families that want cook-in flexibility and a bit more space.
Go early to Crystal as parking is limited, and so close to Seattle and Tacoma. We were stoked to load the gondola a half hour before official opening of 9am, so the early bird gets the space, the first chair and first tracks.
A powder day at Crystal on would be epic with so much terrain, over 2,600 acres. But when it's dumping snow here on Crystal Mountain, you probably can't see while you ski. We loved our crystal clear day at Crystal too. Crystal is located on the Northeast edge of Mt. Rainier National Park.
Crystal Mountain Resort Stats:
2,600 acres
57 named runs
1,000+ acres of side country terrain
57 trails, 11 lifts with a base to summit Gondola
Summit Elevation 6,872′
Vertical  3,100′
Crystal Mountain Resort