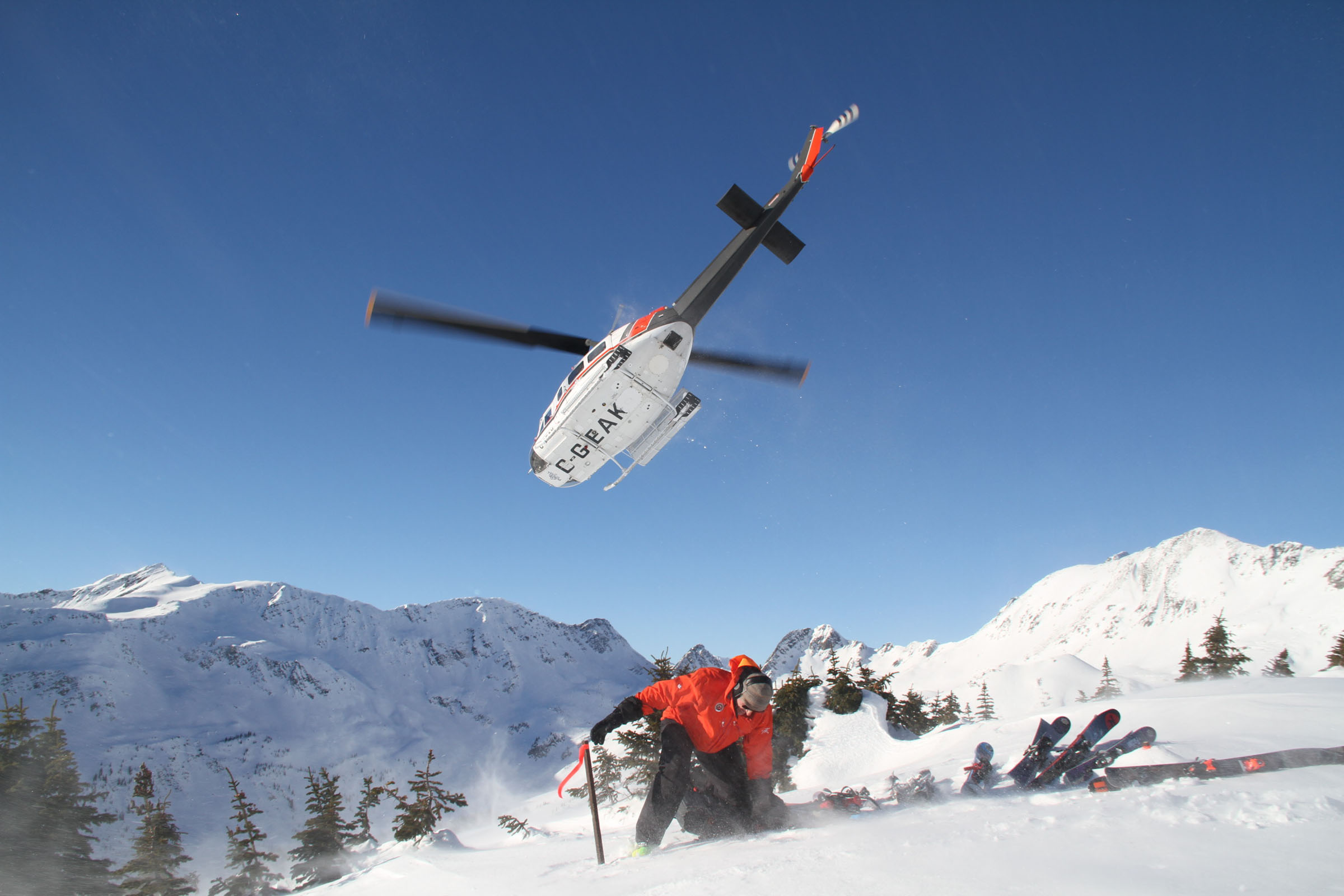 Heli Skiing Survivors
Meeting our new helicopter ski cohorts reminds me of the first episode of "Survivor." We assemble at the Heli pad for the adventure of a lifetime. I size up the other "castaways" to determine whom the strong skiers would be, and identify the potential weak links in our heli ski trip.
As an expert eastern skier, my experience with powder was minimal and time logged in helicopters was nil. A quick scan of the tribe shows only three women, myself included, in a sea of forty resolute men. The group's origins are an international blend of US, Canadian, British, German, Dutch and Italian.
Our territory is not Africa, the Australian Outback, nor a remote island of Borneo. It is British Columbia, home to the legendary Canadian Rockies near Panorama, Banff, Lake Louise, Revelstoke, and Kicking Horse.
Our mission does not involve a million dollar reward, but a secret powder stash, reached only by helicopter, or a mountaineering trek up 3,000 vertical through waist high snow. Our group is drawn here by a common greed for deep untracked snow; the helicopter ride is a bonus.
While our expertly trained Heli Ski Guides privately discuss their strategies and divide us into four teams of eleven, we are welcomed to a buffet breakfast. Some eat as if this is their last meal, others like myself can only nibble nervously. The excitement level in the room is noticeably elevated.
Our briefing on helicopter safety and the operation of avalanche transceivers takes 45 minutes. As a practice drill, the guide hides his transceiver, emulating that he is lost in a slide, and our newly formed "tribe" must find him.
If finding the buried skier had been an immunity challenge, all eleven of us would have been voted off. But we had paid to play, so we endure further rules and reg's before we are cleared for take off. See our Heli Skiing Safety Tips.
Special fat powder skis, included in our package, await us emblazoned with our names on duct tape labels. Atomic bright yellow fat skis that are designed to float on the deep powder become our toys for the day.
Atomic was the first ski manufacturer to design "fats" about two decades ago. Now many more ski manufacturers are producing rocker ski gear for powder neophytes.
At last we are boarding the helicopter. The thumping whine of the chopper blades matches the excited beat of my heart. The gale force wind from the propellers rushes around us as we file into the helicopter bench seats and buckle in for a gripping ride.
It's worth the price of admission just to soar 100 feet above the jagged peaks of the 11,000' Purcell Mountains. The helicopter pilot swoops down into a snow-covered valley, and up again – like a bird.
The heli-ski guide explains that the majority of the premium bucks for heli-skiing goes toward keeping the Vietnam vintage $2.5 million Bell 212 helicopter in mint condition and topped off with costly jet fuel.
Scouting the ideal powder is an exact art. The guides' primary concern is avalanche and crevasse danger. R.K. Heli Company has access to a territory of 780 square miles. That is 70 times more terrain than Whistler/Blackcomb ski areas combined. Bella Coola Heli Skiing has even more tenure, 12,000 acres.
Finding a heli-pad landing area, however, is not a concern. Our pilot perches the chopper on a space smaller than my bathroom, a knife's edge mountaintop, for the 2 minutes it takes us to disembark and crouch in our huddle. Then with a fury of wind, noise and snow – the chopper leaves us to our new surroundings of nothing but immense mountains and astonishing silence.
We take our first run of 2,500 vertical feet in a spectacular glaciated snowfield blanketed with deep fluffy powder. Our adept ski guide leads the way, leaving his flawless signature in the snow for us to follow. He points his pole at concealed crevasses and potential slide areas as we stop to catch our breath and take "if my friends could see me now" photos.
Our two token snowboarders are understandably tempted to rip some huge arcs in the wide-open bowls. That is a no-no, grounds for tribal council. We had been instructed to ski within a pole's length of each other's tracks (no powder pigs), and always behind the guide (or you could ski into "grave" danger).
With the wide skis, we float down the moderately pitched glaciers one by one; often matching powder turns forming picture perfect eights in the snow. I am surprised, and frankly relieved, at how my boards glide through the billowing snow as I bounce from one soft turn to the next. The smiles among our group are almost unanimously ear-to-ear.
Only one intermediate skier is not up to the task; frazzled by her frequent falls in the abundant powder and frustrated about holding the group back. She would not have earned lunch had this been a reward challenge, but we all share a companionable picnic after two runs in our awesome glacial surroundings.
One more run following lunch was included in our $599 Canadian dollars package. Eight of our tribe of eleven eagerly step up to pay the $90 Canadian for a fourth helicopter run, with the following rationalizations: "It's only Canadian money," and "I waited my entire life for this," and "it's too much fun to stop," even "my wife will forgive me." My excuse, "you need at least one girl."
R.K. Heli has the unique offering of day helicopter ski trips. This is an ideal add-on to a ski resort vacation in the Canadian Rockies. You can do a day and try your wings at heli-skiing without committing to an entire week. See our heli ski videos.
Most helicopter ski operations offer 3-7 day trips for $4,000-$12,000, including accommodations, meals, fat skis, and 10,000 to 15,000 vertical of skiing per day.  Cat skiing is far less expensive.
I only recommend heli-skiing to expert skiers and snowboarders in strong physical shape who are able to "survive" all types of conditions and terrain, not just steep and deep. This is wilderness skiing in an uncontrolled environment. If you are not certain, then you should not sign up.
Heli ski brochures clearly state in writing there is no guarantee of weather or snow conditions. In other words, do not count on that blue bird, above tree line powder day pictured in the same promotional material. Clouds and snowfall often limit heli trips to below tree line skiing on gladed runs. Conditions range from "dry powder, to spring crud and wind crust challenges." This is high alpine skiing expect ANY conditions, except groomers that is!
We were supremely rewarded on our heli ski day with billowing powder off the magnificent Rocky Mountain summits in glorious sunshine. It was a life-altering experience, no lift lines, no trail signs, just 35 feet of snow on the remote Farnham Glacier.
Back at the heli plex for après ski, our newly bonded tribe raised glasses of Kokanee beer and toasted with "snow-eating" grins. We hadn't won a million dollars but we had experienced a million dollar day. We not only survived, we had thrived in the Canadian Rockies.
See reviews of  Bella Coola Heli Skiing,  Purcell Heli Skiing,  Eagle Pass Heli-Ski and Monashee Cat Skiing for more heli and snow cat skiing operations in Canada.
More on Surviving Heli-skiing l Heli Ski Videos l Heli skiing for women l Heli Ski Tips