Why don't more women heli-ski?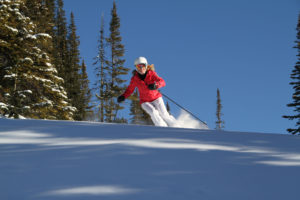 Why don't more women heli-ski? As a ski journalist and editor, I have heli skied a few times now, a lucky seven in fact. My issue: it's always me and the boys. Male guides, male helicopter pilots, and all male participants. My girlfriends think I am crazy to be getting in a helicopter and soaring to high Canadian peaks, skiing remote untouched terrain. One very dear friend said I was a "risk taker." These women jump out of planes on decade birthdays -they think sky diving is awesome. I think they are crazy – it's not the jumping, it's the landing that concerns me. Back to heli skiing, and me and the boys.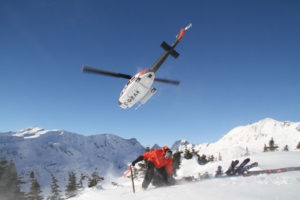 There are real risks with heli skiing, I'll grant my girlfriends that. But there is immense safety protocol too (probably true of skydiving too). I have oft used the analogy that skiing is safer than driving, and sure enough on a recent heli ski day (operator name withheld), our Guide hit a parked car with the shuttle van on our way to the heli-port. Fortunately he was better on snow than behind the wheel. See our Heli Ski Safety Tips.
Our Heli Ski Guide at Purcell Heli Skiing said, there is low probability but high consequences in heli skiing. The dangers are dramatically reduced by selecting a reputable heli ski company, paying attention to the morning safety briefing, heeding your guide's instructions all day, being aware of your surroundings, and skiing with skill and care. Ski only where your guide has cleared and stay clear of tree wells. I was surprised to learn that tree wells are as hazardous to skiers and snowboarders as avalanches. Yet another reason to give plenty of girth to the trees when skiing glades.
Helicopter safety instruction are also vital, like NEVER walk behind a helicopter, huddle close to the chopper during landings and take offs. Once skiing, NEVER pass your guide, ski exactly where he tells you to, and do not ski away from your group.
Women are very good at following instructions, traditionally attentive and good listeners. Women are typically caring and careful, and less apt to overstate their ski ability. These are all important qualities in a heli skier, therefore I think women who are strong expert skiers would make good heli skiers.
My Level 4 PSIA woman friend answered my ladies' heli skiing question about why more women don't heli ski? "Women lack confidence." If that is the case, let me say that heli skiing is not typically hucking cliffs, dropping huge pillow tops, or ripping two arcs down a 4,000' face. Ski films do a disservice by showing extreme heli skiing on super steep pistes with skiers doing back flips off cornices. That's the exception, not the norm. On the flip side, heli ski operators promote that you need only be a strong intermediate skier, I disagree.
You need to be very competent, fit, capable of skiing double black diamonds at any ski resort, be prepared to ski windblown, rime, deep powder, tight trees, crud, anything – perhaps all in one run. Heli ski terrain is inimitable and unpredictable, high alpine adventure with no lifts, no lodges, no signage, just pristine untouched (read: un-groomed) imperfect picturesque snow.
Heli skiing still makes me anxious, in a good way, I get crazy amped the night before. I don't take lightly the risks, but I cannot under sell the rewards. After that first heli flight to the top of a magnificent mountain in the middle of nowhere, the fears subside and the skiing adventure begins. The camaraderie that develops between your ski group and your guide is special too. I just wish I could share this exhilarating experience with a gal or two. How did I do convincing you ladies? Did I mention you are outside on the mountain all day long, including lunch in the snow, with no powder room, well just one big powder room? Am I selling it ladies? Or is it still going to be just me and the boys? Ski Like a Girl ladies…. its something to be proud of!
More on Surviving Heli-skiing l Heli Ski Videos l Heli skiing for women l Heli Ski Tips l Cat Skiing Tips