Vail
Vail tops the charts every year in ski publications as the best Colorado ski resort. Vail is huge, with a great ski town at the base, and great lifts to get you up and out – into Vail's immense Back Bowls. Vail is truly the king of Colorado skiing and home the amazing Epic Pass – your ticket to over 80 ski resorts around the world! See Vail Ski Photos.
Why does everyone love Vail? Let's start with the perfect ski mountain, with ideal fall line terrain, and a beautiful base village inspired from the Alps. Vail has over 5,200 acres of skiing, bountiful snowfall, high blue sky and gorgeous Colorado sunshine unless its dumping snow.
Vail's Village is absolutely alpine charming, the ideal ski town, modeled after St Anton in the Arlberg. For families, Vail has excellent kids ski lessons and adventure camps, amusement ski parks like Fort Whippersnapper, Eagles Nest Adventure Ridge with a plethora of outdoor activities, snowmobiling and zip-lining on the mountain. For Food & Wine lovers, the annual Taste of Vail is a must.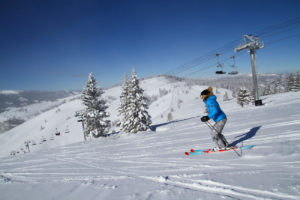 Vail has dominated skiing in Colorado, since 1962, constantly upgrading lifts and groomers – adding a 10-passenger Gondola One for their 50th with heated seats and WiFi, a new six pack at Game Creek and Sun Down Quad in 2022-23.
Vail's Front Side has dozens of the best signature trails, wake-up runs Swingsville and Christmas, long and cascading Simba and Born Free, and curvy Gandy Dancer are favorites. The 4-mile Riva Ridge named for the 10th Mountain Division founders here is long, steep and superbly scenic. Speaking of the 10th, go to mid Vail and the beautiful 10th Mountain Lodge restaurant for a sophisticated ski in ski out lunch, with slippers.
Vail's back side offers seven wide-open bowls encompassing 3,000 of Vail's 5,289 total acreage, this is natural snow terrain, untouched and often untracked but served by high-speed lifts. You can ski from Sun down to Sun Up to China Bowl and Siberia to Outer Mongolia -literally. Take a run down Forever and your legs will appreciate the name. Plus there's Pete's Bowl in Blue Sky Basin and Game Creek Bowl taking you back to the front – Vail's terrain just goes on and on.
A family ski vacation to Vail promises epic skiing on the Front and Back plus après ski in Vail Village – its a winter snow globe of covered bridges, snowy streets and twinkling lights, outdoor heated pools, live outdoor concerts and sleigh ride dinners. Fun events like Magic of Vail and Taste of Vail are highlights.
For Vail's best ski in ski out location, we recommend staying at the Lodge at Vail, Vail's original lodging property at the top of Vail Village. From here you can walk to everything, beautiful Bridge Street, The 10th Mountain Statue and Colorado Ski Museum, plus Vail's best après ski bars like Red Lion, chic ski shops like Gorsuch, Pepi's, and Bol – the latest craze bowling alley eatery. Or you may just want to take the kids for an outdoor soak at the Lodge's Spa followed by dinner of a decadent #7 burger at Elway's (owned by the famed Broncos QB John Elway) or a chic Fall Line Kitchen and Cocktails.
Best Ski Shop in Vail is Vail Sports, conveniently right at the Gondi One base, great skilled staff with a fleet of top skis, and demos. Zito is a master at setting you up with the right fit. Good guys on the hill!
Vail's Lions Head base area has recently transformed into a Disney-like atmosphere with the posh Arrabelle as centerpiece lodging, also a Vail Rock Resort property. There's also a Manor Vail, Four Seasons Vail, Vail Ritz Carlton, The Hythe, and The Sebastian.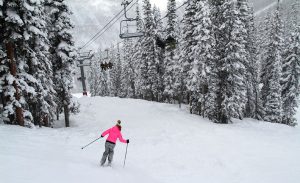 The free Epic Mix mobile app is- cool tech for your smartphone that tracks the weather, snow, your vertical, your family on the hill, gives your day, season & lifetime ski stats, and Vail's Epic Mix indicates wait times when Vail's lifts get busy.
Buy the Vail Epic Pass, a season pass priced under $900 (day tickets are $200+), with early purchase valid for the entire seasons at 40+ Vail-owned resorts including Andermatt in Switzerland, plus Telluride, and more partner ski resorts too, plus free skiing at Verbier Switzerland and Les 3 Vallees in France! But do NOT delay… Vail stops selling its season long Epic Passes sometime in November or December.
Vail Resorts now owns and operates the most ski resorts in North America – from Vail, Beaver Creek, Keystone and Breckenridge in Colorado, to Park City Mountain Resort which now includes the Canyons in Utah, Heavenly, Northstar and Kirkwood in Lake Tahoe California, Afton Alps and Brighton in Michigan, and Whistler Blackcomb. Be sure to ski Vail – it should be on every skiers bucket list – and bring the kids!
Vail Stats:
5,289 acres
31 lifts, 195 trails,
3,450′ vertical, 11,570′ summit elevation
Since 1962
Vail Ski Photos
Vail Ski Reviews:
Best Apres Ski at Vail
Top Ski To Lunch Spots at Vail
Why We Love Vail!
Taste of Vail Review
The Place to Stay at Vail -The Lodge at Vail
Vail is a Top Colorado Ski Resort
Aspen vs. Vail, Colorado's Best Ski Resorts Compared