Portes Du Soleil – Family Ski Chalet Lodging
Au Coin du Feu, which means by the fire, is a great place to stay for young skiing families in Portes Du Soleil. This mountain chalet sits at the foot of the ski slopes in Les Prodains, the French side of this vast 12 village ski region – the link between Avoriaz and Morzine LesGets. Chilly Powder, a British lodging group, operates several lodges in this valley. 'Au Coin du Feu' is the ultimate for parents with young kids. Everything is anticipated from early breakfast to the kids skis, and ski school, and the day is planned around the kids – and therefore their parents for the best family ski holiday. The ski in lodge is in the heart of Portes Du Soleil ski region, an easy gondola ride to Avoriaz, connecting to the Swiss side, or a quick free (and frequent) 10-minute bus to Morzine Les Gets.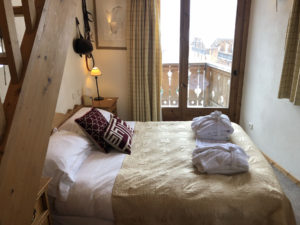 Chilly Powders 'Au Coin du Feu' ski lodge has 16 lodging rooms, recently custom built by a British couple, with families like their own in mind. The three-sided fireplace, hence the name Au Coin De Feu, is the centerpiece and gathering place of this warm, casual but inviting chalet lodge.
From the moment you arrive, you feel like part of the family. Host Nick shows you to the ski garage, then the heated boot room where you can leave your ski mittens as well to dry overnight. Up in the big fireplace living room, which serves as a lounge and dining area as well, snacks are out, as well as hot cocoa for the kids, coffee and tea for mom and dad. The bar is also open for après ski beer, wine and cocktails.
What's brilliant about Au Coin du Feu is its own nanny staff, who take care of the children dawn to dusk, delivering them to Avoriaz ski instructors for lessons in the morning, and fetching them later, alleviating that logistic so parents can be skiing first lift. Après ski, the lodge has a playroom for kids, and afternoon activities as well. Families arriving after a day on the slopes find the wood fire blazing and the outdoor hot tub awaiting too (surrounded by snow if you care to make a snow angel).
Each of the lodge's 16 luxurious bedrooms is themed, with a British twist adding to the character of the lodge. We stayed in the Riding Room complete with equestrian décor, crops and art. The lodge has 11 specially designed family rooms, spacious to accommodate mom and dad and the kids. All the lodge rooms are en-suite with full bath, robes and slippers, and classic fluffy down duvet on the beds.
Your ski lodge day starts with sunrise over the dramatic surrounding peaks in this valley, and a wake-up call if you wish followed by a continental breakfast spread plus a few daily hot dishes put out by Chef, eggs, bacon, salmon, which change each day.
Grab your warm dry ski boots, your ski from the garage, grab the drag lift outside, and ski over to Les Prodains gondola, or catch the bus to Morzine Les Gets. Ski back on the piste from Avoriaz to the Lodge when you're wiped from touring the Portes Du Soleil's 200 lifts and 300 trails. Enjoy a hot tub, sauna or private massage in an outdoor yurt, followed by drinks in the sports private bar just off the living room.
Children's dinner is 5:45 for parents to serve and sit with their kids, a civil hour, before quiet play and bed, when parents can then enjoy their peaceful adult dinner and conversation. The house phone is programmed to reach each family's respective room as a baby monitor, they've thought of everything for families. Au Coin Du Feu is not fancy, its family style and friendly, and there's that iconic fireplace at the heart of it.
Adult guests gather at 7:45pm for the Chef's canapes, and cocktails purchased at the bar. Then at about 8pm, everyone is seated at two long convivial tables for Chef's hearty 5-course dinner, soup to main to dessert and a finalé local cheese display, all served with house red and white wines. A bed and breakfast rate is available apparently, but missing dinner here is missing out – culinarily and socially speaking.
After dinner there's billiards and board games in the loft above the living room, nightcaps in the bar with the genial crew, or bed, sleep, wake, ski, repeat. Au Coin Du Feu spoils English families, kids and parents alike, with simple logistics, and a hint of luxury, in the French and Swiss Alps of Portes Du Soleil. This lodge is a welcome open door for ski families to enjoy the skiing at the "gateway to the sun" in Europe.
More on Skiing Portes Du Soleil:
Portes Du Soleil's Best Mountain Chalets Restaurants
Guide to the Best Ski Trails in Portes Du Soleil
More lodging:
The Best Family Mountain Lodge in Portes Du Soleil- the Swiss side
Portes Du Soleil Luxury Ski Lodging at Mountain Lodge Les Crosets