Aletsch Arena Switzerland Ski Vacation
Aletsch Arena is a wonderful Swiss ski resort for families in the Wallis region, actually comprised of three ski areas – Riederalp, Bettmeralp, and Fiescheralp with their own car-free ski villages now are interconnected by ski lifts and trails and share the same Aletsch lift ticket. Aletsch Arena has been rated among the Best Ski Resorts in the Swiss Alps along with Zermatt and Saas Fee. The name Aletsch reflects the spectacular Aletsch Glacier viewed off the backside of all three peaks, the largest, longest glacier in the Alps at 14 miles.
A family ski holiday in Aletsch is ideal, there's no car to worry about, you ride a tram from the base of your selected village, walk or ski to everything. Enjoy the timeless alpine environment of skiers and hikers, surrounded by century old Swiss chalets. Children will love arriving for ski vacation by Tram, and being delivered to their hotel or chalet by snowmobile or snowcat. It is impressive that everything from food to luggage to visitors all arrive by ski lifts here. We enjoyed Bettmeralp, the center of the three ski areas, nicknamed the Better Alp.
The three ski areas, Riederalp, Bettmeralp, and Fiescheralp are all good size areas on their own but together their 34 lifts and over 104 kilometers of prepared slopes make for a diverse ski vacation. Skiers will find everything from groomed slopes, beginners' areas and kinder club, terrain parks, half-pipes and a big air bag jump, and plenty of free-ride runs and off piste terrain.
Riederalp was named the best ski school for children in the Alps, with a fabulous kids beginner area in the center of the Riederalp village kids races and a playground.
The highest in elevation at 9,412′ is the western side of Aletsch Arena at Fiescheralp and the best view of the Aletsch Glacier. From the Eggishorn summit, you can see the impressive Jungrau and Monch and the amazing glacial ice formation surrounded by 13,000′ peaks of Valais. Skiers with a guide can venture into wild off piste terrain, or you can ski down the one narrow expert marked trail with fences on both sides, quite dramatic and exciting. We enjoyed a fabulous lunch at the Horli Hitta of haute cuisine (literary) of raclette and rösti potatoes with a view.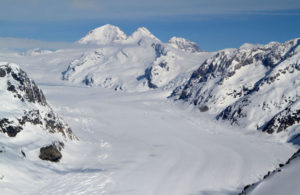 Aletsch's ski lifts at all three ski areas are impressive – gondolas, trams and six passenger chairs provide swift access to the slopes. You can stay on the well prepared pistes (marked trails), or hire a guide to venture off piste – on a powder day it looks like almost limitless terrain here. From the top of Bettmeralp, reached by a long gondola, skiers can venture through the experts only tunnel through the mountainside, or you can ski the two red trails (intermediate).
Swiss chalets are located around the mountain – authentic huts like Battmer and Heidi Hitta, serve traditional lunches of fondue, schnitzel and goulash soup, just look for the Swiss flag. The vast terrain is surrounded by amazing views of amazing 12,000' Alps, as far as Italy and the Matterhorn.
Aletsch Arena's three villages, Riederalp, Bettmeralp and Fiescheralp, offer a variety of chalets, hotels and apartments in. We stayed at Hotel Alpfrieden – centrally located and an easy ski in ski out location. Our cozy Swiss rooms in traditional decor offered a balcony with a stunning view. A convenient ski room and a warm boot drying room. Half board at Alpfrieden includes a delicious five course dinner in the restaurant, and a bountiful buffet breakfast with a view of the ski lifts. The Alpfrieden has a disco and Icicle bar so you may want to ask for a room on the other side of the chalet.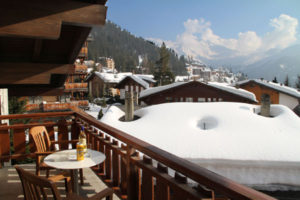 There is so much to do in the Aletsch Arena besides skiing, there are 45 miles of cross country, snow shoe and hiking trails – they call it winter wandering. You can ice skate on a natural ice rink in Bettmeralp, or Paraglide tandem from Fiescheralp. If you are particularly adventurous, try the 8-mile sledding run from Fiescheralp on a traditional wooden sled by day or at night with a flashlight after a fondue and raclette dinner in a mountainside chalet (sounds crazy to me).
Families love Aletsch Arena's vast ski terrain and the ski school programs – among the best in the Alps, kids love the mascot named Snowli and the races. Aletsch Arena is a Unesco World Heritage site for its natural beauty, car free atmosphere, and extraordinary glacier, and well worth a family ski holiday.
Aletsch Arena Ski Stats: Elevation 9,412′, 5,971′ Vertical Drop, 35 Lifts, 64 miles of prepared trails plus off-piste, 11 terrain parks, an 8-miles sled run, cross country and winter hiking trails.
Travel to Aletsch: Fly into Zurich or Geneva, take a Train to Brig connecting a smaller train to Betten or Morel, then a Tram (lift ticket required) to Bettmeralp or Riederalp respectively.
Aletsch Arena Ski Photos
Top Swiss Ski Resorts for Families
Swiss Ski Videos