Top Ski Chalet Restaurants Portes Du Soleil
Portes Du Soleil, the vast Alps ski region that spans Switzerland and France, 14 villages and 12 ski resorts, is beautiful – with spectacular views, a mix of modern lifts, t-bars and pomas, and tons of ski terrain. A highlight of this high alpine, highly scenic ski touring is on mountain lunch! A chalet for a French Cappuccino, an aperitif, cold drink on the sun terrace, or vin chaud (hot mulled wine) and Swiss Fondue inside by the fire on a cold snowy day.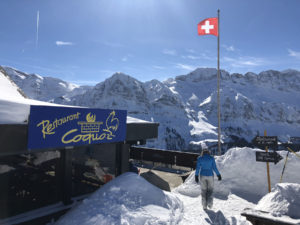 Tip: Always make reserve for lunch. Even if you call at 10am that same day, call ahead and make a reservation. Mountain Huts save the best tables for reservations not walk ins. In fact, if you walk in and ask for a table they will often look at you like you have two heads. We enjoyed dining noon, as most Europeans break for a 2 hour  lunch between 1- 2, making that a great time to get back out and enjoy the less-crowded slopes.
Dine at these top 7 Mountain Huts on the Swiss side and/or first four restaurants listed on the French side in the Portes Du Soleil and your are sure to have amazing lunches.
From the Swiss sides – Region Dents Du Mid, to the French slopes of Avoriaz, Châtel, Morzine and LesGets.
7 Best Mountain Chalets (aka Mountain Huts) on the Swiss Side
Le Coquez in Champéry is a beautiful Swiss restaurant with a striking view of Les Dents du Midi. Dine upstairs for table service, there's an extensive menu of local cheese, meats, and wine. The duck is fantastique, so was the apricot schnapps the proprietor brought as a toast! Sit on the non-smoking side, tables 21, 22 or 23, for the best views. Le Coquez is so good we returned again for the view, and a charcuterie plate and one pot of fondue – its nice they allow one serving of fondue (versus the usual two person minimum). Downstairs is a self service restaurant. 41 244791255
Le Toupin, in Champéry's snowy bowl is a classic traditional stone and wood hut, step inside and smell the wood fire, sit at a cozy wood carved table. The friendly staff will swiftly bring, hot chocolate with Chantilly cream, beer, wine or vin chaud. The cuisine is hearty and delicious, pasta Bolognese, quiche, croute fromage (a decadent grilled cheese), fresh salads, or the plat du jour. Relax over your repas as the fireplace is stoked. Le Toupin Champéry 41 24791548
U Yeu tsalé in Morgins, is a very authentic chalet, the name is local Swiss dialect for "old chalet." Very fitting for this 1808 historic, homey place serving delicious food including the best fondue, and a beautiful presentation of regional dried meats and cheeses on a wooden sled –"the luge." The "old chalet" is loaded with Swiss ski memorabilia, yet the place rocks with outdoor concerts, next to the base of TS Chaud quad chair. Love when old meets new and the Dents Du Midi view! U Yeu tsalé 41 796987912
Chez Gaby is a popular chalet in the quieter Swiss ski village of Champoussin. It is a traditional setting with nice views, a small wood bar area, and a large restaurant, even the kids ski school comes here for lunch, thankfully in a separate room. Lunch and dinner feature classic Swiss dishes – rosti and croute – toast with melted cheese. Chez Gaby has their own farm just down the slopes at the Aguille Des Champeys quad, where they make quality cheese, so their fondue and raclette are Gaby specialties. 41 244772222
La Tovassières (pictured top) is accessed from the Point de Mossette summit, ski run 31 – Tovassiere toward Morgins. After a delightful long ski sit outside and watch skiers descends the steep off-piste Pierres Plate, aka Flat Rock. Inside is cozy, on a sunny day outside is spectacular. Guides bring their groups here, a good sign! Traditional Valais cuisine, croute or  melty ham and cheese sandwich of their own cheese from these pastures are tops. Its a long run out to Morgins after lunch, tuck it if  your ski pants aren't too tight, right?! 41  244774657
Le Corbeau above Morgins has a fantastic view from its humble simple restaurant on the side of its own ski trail, just below the summit of the Corbeau chairlift on Morgins east side. Find a table near the window, or outside on the sunny terrace, watching skiers pass on the chairlift with the dramatic Dents Du Midi as backdrop. Order at the bar, take a seat and enjoy your wine, your quick hearty fare – lasagna or croute fromage (hearty French toast loaded with local cheese in a crock pan) will be brought to your table. 41 793392966
Very remote and off the beaten path is La Bourri, a fantastically authentic chalet tucked off the side of Torgon's Recon piste, 1582 meters, reached by t-bar.  Everything here is homemade, with a casual chalet interior, Daniel's food is traditional Valisannes, best enjoyed with local wines.  Bourri's classic is their croute – rosti potatoes topped with local cheese, ham and an egg. Their cassoulet is also a specialty.  La Bourri is cozy, and Proprietress Dalila is lovely, efficient, and always smiling, I told her she worked hard with great finesse, she replied "this is not hard work" and waved to her beautiful mountain setting.  Quiet Torgon and La Bourri are located past Chatel on the far eastern most point in the region.  41 797573255
4 Top Mountain Chalets on the French Side of Portes Du Soleil
Le Chaudron in the French ski thru Villages du Chevres (goat village – filled with charming lunch chalets) is just beyond the ski lifts and restaurants at Les Lindarets in Avoriaz. Look for the orange chair and the cauldron, a St Bernard will greet you and the proprietress will seat you in or out. The omelets from local eggs are bright yellow, light and fluffy, like the snow should be, and every pasta dish is hot and homemade! The outdoor deck has sheepskin blankets and a fantastic view, while the inside is cozy by the windows watching skiers pass though this adorable chalet ski village – we called it "French Alps restaurant row". 33 450740535
Chez Denis is a classic alpage in Châtel, a small building just above all the other restaurants at Plaine Dranse, at 1650 meters. Its well worth the short hike above Chez Crepey, BarBabette, Marmolade, for this authentic family run chalet lunch. The cheese dishes are their own farm product, and the Rebluchon raclette is their specialty, served with salad, potatoes, and local dried meats. The owners are friendly, hard workers,  prices are reasonable, portions are large. 33 450733629
Chez Nannon in Morzine is a cozy old wood chalet, on Piste Ravarettes. Nadine and her family rock this authentic hut, reserve in advance a table inside at noon or 2, and order the potatoes de reblochon, their specialty –  fried potatoes covered in melted local cheese – share it "complete" with salad and the charcuterie. A shot of Chez Nannon homemade digestif is a strong and sweet punctuation before you go ski! 33 450792115
Les Marmottes in Les Lindarets is cozy inside, not fancy, or sit outside and watch skiers push by on the flats . Marmottes is well known for its fresh bountiful salads with goat cheese or reblochon,  the friendly efficient staff, and great value for table service. Salads, sandwiches, croutes are excellent, under $20 Eu, many under $15, like Croque Monsieur (a frilled ham & cheese sandwich with salad for $9!)  and a pitcher of Valais wine for $7. Finish with coffee and a gorgeous dessert – Chef takes pride in presentation with Chantilly (whipped cream). Proprietor Philippe may pop from the kitchen for praise. 33 450740986
Other Options French Side:
O'Padcha is the highest mountain lodge on the French side, Avoriaz, above the Swiss Wall. This is a great stop for mid-morning cappuccino! Furry pillows and blanched alpine wood provide a chic environment inside, and a bumping DJ plays outside on the sun deck. O'Padcha is self-service food. Go here for drinks and music on a sunny ski day, or for sustenance before dropping down the 90% Swiss Wall, or a vin chaud if you plan to download to Champèry watching others flail on the steep moguled Swiss Wall ski trail.
Les Ancelles in Avoriaz at the base of the Mossette and Brochaux quad lifts, is one of three chalets here. Les Ancelle is cozy inside, so it can get busy on holidays and cold days given its small capacity. There's also an outdoor deck. The cuisine is homemade and served piping hot from omelets and crepes to a big serving of lasagna with side salad that will refuel you well for your French to Swiss ski afternoon. 33 450741690
More Options Swiss Side:

Cookie Café atop 2277-meter Pointe de Mossette, at the Swiss summit 30 feet from the French border sits this mod lodge, ideal for a mid-morning cappuccino and croissant. Cookie is also a great meeting spot, on the cowhide chairs by the window or the outdoor deck, with Free WiFi. For lunch, Cookie Café  is a self service restaurant known for great burgers and an amazing juicy view too! Cookie Cafe is self-service but the staff is super friendly, the lodge is panoramic and easy to find. 41 244791219
Chalet Bochasses is a self service restaurant with a spectacular location, staring out at the Dents Du Mid, in Morgin, overlooking Champoussin, stop for a vin-chaud and revel in the view from Les Bochasses.
Amici and Le Poussin are sister restaurants, both easy to find just off the slopes in Swiss Champoussin. Amici is classic northern Italian, excellent pasta and pizza dishes in a cool alpine modern café overlooking the Sepaya learning slopes. Le Poussin is a chic restaurant, with a nice bar area, sheepskin covers and delicious regional fare, look for the Swiss flag by the Champey t-bar. 41 244771788
You can avoid Les Caveaux in Champoussin – nothing special, unless you like cheesy entertainment on raclette night, an old singer croons mistaken lyrics, and raclette is rationed out on small individual plates.
More on Portes Du Soleil
Best Ski Trails in Portes Du Soleil
Where to Stay:
Best Mountain Lodge in Portes Du Soleil
Best Family Lodging in Portes Du Soleil