Portes du Soleil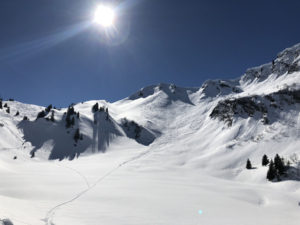 Portes Du Soleil is one of the largest ski regions in the world, second only to Les Trois Vallées in France. "The Gateway to the Sun", is also known as Dents du Midi "teeth of noon" for the towering jagged peaks that bite into the sky, lit up perfectly midday. This mountainous ski region spans from the Swiss Valais near Lake Geneva to France, so you are literally cross-country skiing, only its alpine.
200 lifts and over 300 pistes (trails) connect over 14 valleys and 12 ski resorts villages. A few villages require buses to continue skiing – so technically its not all ski lift accessible, otherwise it would be the biggest skiing anywhere. All this skiing is on one pass, an RFID card, so you can ski with ease from Switzerland to France, and back, no passport required. Its popular to tour the circuit, most do the PDS (Portes Du Soleil) tour clockwise, in a day, but we love skiing in a less structured tour and enjoying some of the best terrain and trails (see our Guide to the Best Ski Trails in Portes Du Soleil) not on the heavily skied circuit.
Skiing these French and Swiss Alps is at moderate elevation, not as high as most Alps, just 1,100 – 2300-meters, yet the scenery is magical – almost always in the shawdows of the Dents Du Midi – seven distinct summits soaring to 3,257-meters (10,680') on the Swiss side.
Portes Du Soleil's 12 ski areas, half are French and half Swiss. The Swiss side, our favorite, includes Les Crosets, Champéry, Champoussin, Morgins, and Torgon. The French Alps ski areas are Avoriaz, Châtel, La Chapelle, Morzine, and Les Gets. Most of the resorts have grown around traditional valley villages – the biggest resort names here are: Avoriaz – the high mountain car-free resort started in 1966, Morzine – the largest authentic village, Châtel – a typical Savoyard village, Les Crosets and Champoussin – small Swiss ski resort towns, Champéry – an historic Swiss village, and Torgon – a modest 70's vintage mountain resort.
We preferred the Swiss ski terrain and scenery, the Region Dents Du Midi, with far lesser crowds than the French ski resorts – especially the ski slopes of Champoussin. Given its proximity to the grandeur Verbier, Crans Montana, Saas Fee, Zermatt and more, few Swiss ski here. France's Avoriaz and Châtel are among the busiest, given the quantity of lodging and high capacity lifts. Its wonderfully fun to ski "cross-country" back and forth with ease. The French/Swiss borders are marked and the signage is helpful pointing you to the next ski villages. Don't expect good signage on the pistes however, they barely have trail names, just numbers and designation of difficulty – green, blue, red, and black, then yellow (expert/extreme). The two or three prepared pistes (groomed) off each lift are lined with intermittent bamboo poles on each side, you could easily ski between poles and be off a cliff, so pay attention to this mostly wide-open above-tree-line terrain. When it's foggy, snowing or white out, it's especially challenging.
Portes Du Soleil off-piste is off the hook, in every direction between the prepared runs. Wide open gently pitched powder fields, many of them cow pastures in the summer, to steep avalanche prone chutes loaded with windblown snow. You could have a blast here, and you could get into grave danger – read: hidden cliffs, crevasses and sudden slides! To explore the vast off-piste, hire a guide, and you can score long gorgeous untracked runs comparable to heli skiing in Canada. In these Alps however, if you see a helicopter, its for a medical evacuation, so take out the insurance and ski with care on the busy ski trails and intersections, and especially when skiing outside the marked patrolled pistes.
Portes Du Soleil is reputedly sunny (its namesake), and gets frequent snow, given its proximity to Lake Geneva. Its also nicknamed Portes De La Pluie (rain) as the snow can be mixed at this elevation, or wet…. you get my snow drift. The best months to ski Portes Du Soleil are January, February and early March, of course that coincides with popular family holidays, April is typically too late.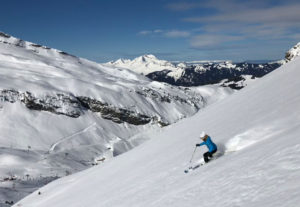 A highlight to Portes Du Soleil is the mountain chalets. See our Guide to the Best Mountain Chalets in Portes Du Soleil and you will have a fantastic ski foodie tour. The blend of French cuisine and lifestyle, with Swiss traditional and alpine décor, is fantastic.
The French laissez-faire seeps over the border to Switzerland, we noted the lift openings and maintenance are less precise than Swiss clock-work resorts like Zermatt. If there was snow the night before or freezing temps, lifts were delayed a bit. Portes Du Soleil offers a mix of modern and aging lifts, including many "drag lifts" pomas and t-bars.
Les Crosets is an ideal lodging spot, a nice size ski village, with key lifts that deliver you to the border, at Point Mossette you can drop into France, or ski the Swiss side. The Mountain Lodge is the best chalet, perfectly located by a poma lift, with modern but cozy alpine décor, and views of the ski slopes from most every suite balcony. The cuisine is delicious, and everything is geared toward skiers from the ski and boot room, to the hot tub and spa, to après ski at the bar and fireplace living room.
Champéry is a charming Swiss ski village, and you are a Cable Car ride up to the skiing connecting to Les Crosets and the rest of the region. Champoussin is quiet, with great ski terrain, but limited ski lodging. Morgins is a mid-sized chalet ski village, you need a bus across town on your way to the ski lifts of Chatel.
Avoriaz is a very built up mountain lodging town, with tall timber built hotels perched on cliffs, developed in the 60s, this is a busy car-free village, and an integral part of the entire Portes Du Soleil region. With lots of restaurants, cafes, and condos, lift lines here can be the busiest. Travelling with a young family, Chilly Powders Au Coin De Feu, in Les Prodaines below Avoriaz is an excellent choice for an all-inclusive stay in a convivial mountain lodge.
Torgon is off the beaten ski path, between Châtel and La Chapelle, there is great ski terrain here, including a high alpine plateau with splendid views of the entire region, Mont Blanc and Lake Geneva. Torgon's lodging however is seven huge 70's era condo buildings, with defunct ski lifts except for two beginner pomas, so you must take a free ski bus to the connecting ski slopes. Plans are in the works to install new lifts connecting Torgon's village – La Jorette to the rest of Les Portes Du Soleil but this is likley to take several more years.
Morzine and Les Gets are connected to each other, and Morzine is an authentic buzzing ski village, but you must take a 10 minute bus to these ski slopes from Les Prodaines in Avoriaz. Much of the terrain here is classic trail skiing, tree-lined and slightly lower elevation, but fun, with more great lunch chalets, modern lifts and kids terrain parks.
Portes Du Soleil is an ideal ski vacation for those that love to explore new terrain, with twelve villages spanning two countries, you have so many ski slopes to swish. Managing multiple trail maps and you timing each day is a fun task, just be sure you plan your return to your hotel in time. We met folks who paid pricey cab fares from far away ski villages by not minding their return lift times. Yes, it's that big, and Portes Du Soleil is that beautiful.
Region Dents Du Midi Tourism Bureau
Portes Du Soleil Stats
12 ski resorts – Swiss and French
600 kilometers of skiing
200+ lifts, 300 pistes
7,470' summit, 2,277m
See More:
Portes Du Soleil's Best Mountain Chalets Restaurants
Guide to the Best Ski Trails in Portes Du Soleil
Where to Stay:
The Best Luxury Mountain Lodge in Portes Du Soleil
Best Family Lodging in Portes Du Soleil