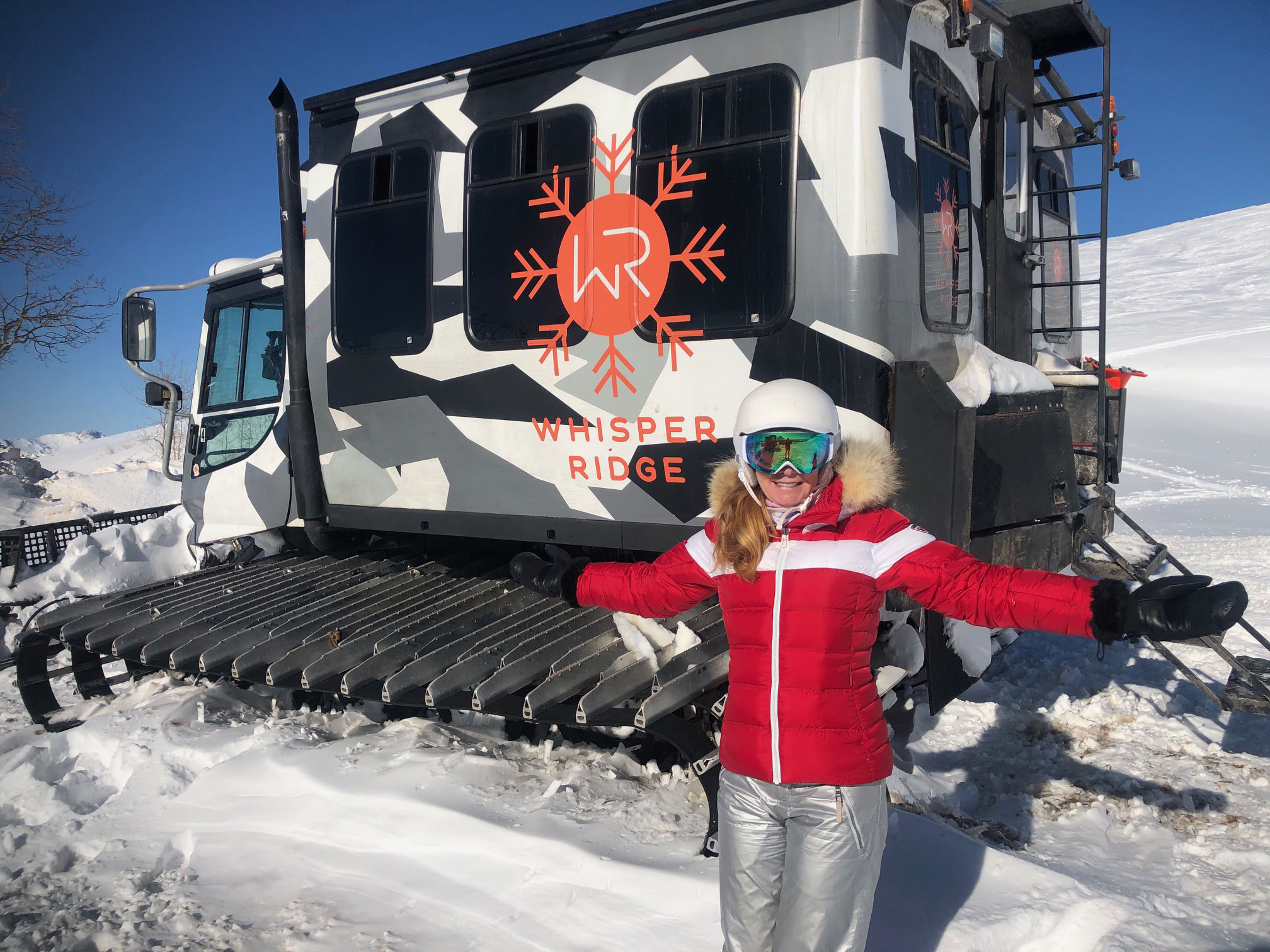 Whisper Ridge Utah
Whisper Ridge was Utah's newest cat ski and heli-ski operation, with a vast tenure – over 70,000 acres of private land. But then they went out of business. Too bad!
First, Whisper Ridge was easy to get to, just an hour from Salt Lake City – which is so rare in cat and heli operations, usually its remote and takes a day to reach, like the Monashees. Whisper Ridge is located in Eden and Paradise – how poetic. Their vast beautiful terrain in the Northern Wasatch abuts Powder Mountain, and is not far from Snowbasin Resort.
Second, Whisper Ridge was run by the friendliest, most passionate bunch of skiers and riders. Young, enthusiastic, energetic…
Our cat skiing day started early, reporting to duty at 7am, with breakfast at Whisper Ridge's base op in Eden. Over coffee and breakfast burritos, we met our fellow skiers and riders for the day, most of which were repeat guests – always a good endorsement.
Powder skis were swiftly outfitted for anyone needing them, Black Diamond fat skis are a a partner to Whisper Ridge. Transceivers were provided to everyone, and we received a brief intro to our guides, and a description of the day, that we'd be driving 20-minutes in caravan style to their Powder Mountain yurt where we would be helicoptered to the cat ski terrain.
Bonus, we got a gloriously scenic helicopter ride to start our cat ski day, with a bird's eye view of where we would be skiing. I did need to dial back my enthusiasm, since we didn't start skiing til noon. The previous day, some in our group said they drove an hour and half  to the cat base location and started skiing at 11am. Eventually, everyone in our cat group, 24 skiers and riders, plus our guides were transported in copter shifts, and dramatically deposited by heli on top of a spectacular Utah peak.
Our first run was soft powder in the trees. Regrouping at the base of our initial run, about 900 vertical feet, our cat was awaiting and we boarded and rumbled up the cat track, about 15 minutes, in the cozy cab – custom made for Whisper Ridge with comfy seats and heat. Two private cats ran independently, though we did intersect the other Piston Bully and the second cat ski group a few times in our day.
Our next few descents varied from more open snowfields descending to glades, to snow-filled tighter forests. Our group was happy, experienced skiers and snowboarders, in fact the guide fell more than the clients. Guides were relaxed about who went first and in what order, just stressing not to pass them unless otherwise instructed.
Picnic lunch was served on the move unceremoniously, during our cat ascent, sandwich boxes thanks to Even Stevens catering. We skied 7 runs all tolled, down to our snow cat pick up spot, then rumbling back up to repeat, until time and the day ran out. The amount of skiing and the pace at which you ski is determined by the group in your pack and your guides' vibes. Whisper Ridge typically offers 10 – 12 runs in a day.
Après ski, everyone is invited to drive back to Whisper Ridge's base operation in Eden for celebratory beers and tacos (included in the day's package as well)– sharing a dinner snack and the camaraderie that had developed over the day. Several clients were already talking up their next Whisper Ridge day, or signing up for heli-skiing.
We have cat skied in the remote Monashees which takes a day to get to from Kelowna Canada, and you stay in their Monashees Lodge on a three night package. Other day ski Cat operations we have enjoyed in the lower 48 include Silverton Cat Skiing in Southwest Colorado and at Brundage Idaho. See our Cat Skiing Tips.
Whisper Ridge was cool because it was easy to add one day to your Utah ski trip , cat or heli skiing a la carte, less commitment, less money. Then you can resort ski at Powder Mountain, Snowbasin, Park City Mountain, Deer Valley, Snowbird or Alta as part of your alpine assault.
For posh lodging in Eden near Whisper Ridge, The Compass Rose Lodge is a boutique hotel with a very cool vibe, swank décor and dedicated ski owners. Need I say more? Check out Compass Rose when skiing Snowbasin and Powder.
Cat skiing with Whisper Ridge was $795 a day. Two days cat skiing and a night in their Yurt village was $1,970.

Heli skiing days were $1,440 at Whisper Ridge Backcountry in Utah.

More on heli-skiing and cat skiing
Heli Ski Tips
Cat Skiing Tips
Brundage Cat Skiing in Idaho
Silverton Cat Skiing
Monashee Cat Skiing in Canada