Laax
Laax is a huge playground ski resort in Graubünden, with three separate ski villages to start your day in – Flims – Laax – Falera. Located in Switzerland's southeast region of Graubuenden in The Alps. Laax has vast ski terrain and modern lifts in all directions stemming from each of the three ski towns with Laax in the center, Flims to the east and Falera to the west.
Laax has 224 kilometers of prepared ski slopes, and 28 lifts from 1,100 to 3,018 meters (almost 10,000') in elevation. Riding lifts from the lower villages, you are taken up to grand above-tree-line plateaus, where you can ski almost everywhere you can see, with so many aspects.
For a family holiday, Laax has something for everyone, grand groomed pistes (trails), gentler learning areas and ski schools, interesting forested trails to the villages, and some of the world's best freestyle parks including a monster halfpipe (23' high), Olympic size jumps, and its own Laax freestyle academy. The highest point at over 9,900' is the Bündner Vorab Glacier affording Laax a long season at the summit, which can be reached via gondolas and trams, then up T-Bars which serve the two glacier runs.
Laax is a bit overwhelming at first glance, the central summit hub is Crap Sogn Gion where the incredible GALAAXY lodge sits atop the peak where six lifts intersect. This massive mountain lodge houses two tram stations, a hotel, and resembles a spaceship. It's actually a 50-year-old building recently renovated by an artist in a funky retro design. The angular exterior conjures Legos and Minecraft painted in winter camo. Inside is hostel-style lodging, office space in The Bridge, a rooftop bar, a copper fireplace lounge, a record room (think LPs), a vintage TV room, library, and dining. The Galaaxy is the most bizarre, imaginative mid-mountain lodge I've seen, towering over Laax's superpipe with a 360 panorama of the ski terrain.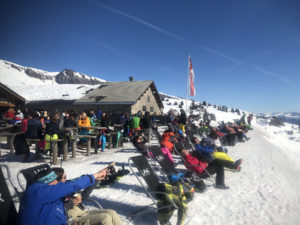 The joy of skiing Laax is there is so much terrain, from well-groomed long runs, to high alpine plateaus served by high capacity lifts, new gondolas, two big trams, and several quads and six-pack chairs. For free riders and adventurers, the off-piste terrain to explore is huge, just off the groomed marked trails, hire a guide to be safe from slides or getting lost.
Another highlight of Laax is the many on mountain chalets, 30 restaurants and bars you can ski to, with sunny exposures so you can dine outside with phenomenal views. Laax is a winter playground too with sledding on designated groomed trails, Nordic skiing, and winter wandering (lift accessible walking trails) in the high alpine. You family could easily spend a week skiing Laax, and you could include in your holiday skiing nearby Arosa Lenzerheide, Obersaxen, Savognin, and Brigels in the Surselva region, and Davos and St Moritz further east.
On mountain chalets and dining at Laax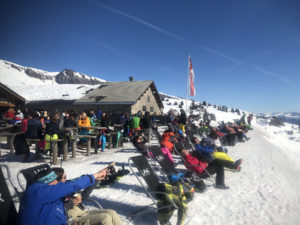 Stalla Alp Nagens is the most classic ski hut for lunch we found, with a huge scenic sun terrace, and a cozy cow barn interior where we dined watching the Chef melt our cheesy Raclette over a roaring open fire.
Elephant at the Crap Masegn summit is a mod Michelin-rated restaurant, chic, with elegant cuisine like fresh fish daily, wonderful soups, and craft coffees. The name Elephant originates legitimately from a 1992 Circus at Laax where elephants were brought up to 7,000', one elephant got away… the name stays. Don't miss Elephant's luxe bathrooms with a view, the ladies' toilet is a wow, the men's urinal has the finest vantage point with its floor to ceiling one-way glass.
Runca-Höhe is a rustic hut along your descent towards Flims, famous for their Rösti. Runca chalet is classic with a beautiful terrace and inside the old wood walls are lined with local game – jackalopes, beaver, ermine, pheasant, and more critters I couldn't name.
Where to stay
Swisshotel Flims setting can't be beat, steps to the gondola, with underground parking, a ski room, an adults spa. Our room had a balcony overlooking the slopes, we watched the night sledding, and woke to church bells and a hearty breakfast, so Swiss. Sandra and Paolo recently renovated the hotel, and their La Griglia dining is so cozy and convenient. The roast chicken on a spit is outstanding. Or opt for the cozy Fondue Stubli for cheese fondue. You're in the heart of Flims village for après ski, shopping and dining nearby as well.
LAAX Stats
Laax offical ski resort site
224 kilometers of prepared ski slopes
28 lifts
Elevation 1,100 – 3,018 meters, 9,900' summit
4 terrain parks
30 on mountain chalets and restaurants
Near Arosa Lenzerheide, Obersaxen and Brigels ski resorts, 140 km to Zurich